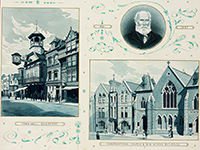 One of the many bonuses of working at Surrey History Centre is discovering unexpected treasures among the miles of records held in our strongrooms. A wonderful example of this happened recently when I was researching a road built in Guildford in the mid-nineteenth century. It was fascinating to find evidence of a strong link with Congregationalism among its builders, owners and residents.
Wanting to learn more, I browsed the extensive catalogue of records of Guildford Congregational Church, later Guildford United Reformed Church, 1706 to 1990 (reference 1466). These were deposited back in 1985 and 1986 and have been widely used by researchers but they were relatively unknown to me. Among the usual church records - registers, meeting minutes, membership rolls and magazines – I came across several albums and scrapbooks created by church members to mark special occasions. Browsing through them in the search room, I was astonished by how beautifully produced they were, in particular:
Album presented to David Williamson BA on his retirement as Superintendent of the Guildford Congregational Sunday School, 1889 (reference 1466/8/8).
Photograph album presented to Mr J R Stevens in appreciation of ten years of 'religious and temperance work' in Guildford, 1891 (reference 1466/10/2/1)
Illuminated book presented to Miss Combes, teacher at Guildford Congregational Sunday School, signed by the Minister and teachers, 1927 (reference 1466/8/9)
Illuminated pen and ink drawings by W J Harris of Guildford Congregational Church, its district churches and Guildford sites (part of an album presented in 1930 to Edgar Bowen on his leaving Guildford for Sutton), 1930 (reference 1466/10/1/4)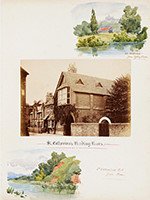 As well as showcasing some very proficient watercolours, pen and ink drawings and examples of calligraphy, these albums provide a valuable insight into individual church members and their standing in the community. The illustrations and photographs in the albums are not just of the church buildings but also of local town and country scenes which allow us to better imagine the landscape of the time.
For those unfamiliar with Congregationalism, the Congregationalist Church has its roots in the Puritan Movement of the European Reformation. The Congregationalists were originally called Independents, and a number of these independent self-governing congregations date back to 1662. The Congregationalist Church is defined by its belief that the power of the church lies with each individual congregation and not in a church hierarchy. In 1972, the Congregationalist Church and the Presbyterian Church merged to form the United Reformed Church. See our research guide on nonconformist records for further information.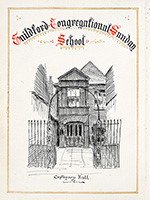 Congregationalism has been active in Guildford since the early eighteenth century. In 1690, John Horsnails built a wooden meeting house at Blackhorse Lane, Guildford. In 1723, his widow Elizabeth sold the building to John Parvish and other trustees of the recently-founded Congregational Church, and in 1802 the chapel, in what was now Chapel Street, was rebuilt with further enlargements over the years. In 1862, a fund was established to build a new chapel which opened on North Street the following year. A new church was opened in Portsmouth Road in 1965. District churches were also established around Guildford, including at Normandy, Shamley Green, Compton and Merrow.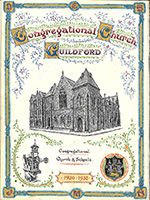 For anyone keen to learn more, the collection also includes an indexed scrapbook detailing the history of Guildford Congregational Church (reference 1466/10/1/1). Originally compiled in 1916 but with later additions, it is crammed full of newspaper and magazine cuttings, photographs, handbills and flyers service sheets, annual reports and accounts and notes on church history. The contents date from c.1812 to the 1930s and include photographs (from the 1860s) of the ministers, deacons and superintendents as well as the lady superintendents who ran the Sunday schools. There are items relating to the First World War, including church magazine news cuttings and details of the war memorial and the names it commemorates. It truly is a valuable resource.
It is always worth browsing the Surrey History Centre catalogue and delving into the collections. Who knows what gems you will discover?
Inter Faith Week runs from 12 to 19 November and is an opportunity to strengthen good inter faith relations and increase awareness of the different and distinct faith communities in the UK. Can you help us document Surrey's faith communities? It's important that our archive collections represent all faiths in Surrey. If you have material relating to a faith group or initiative, Surrey History Centre would love to hear from you.
Images
Select image to view a larger version.