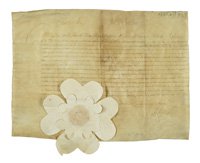 On 30 March 1650, Charles, self-proclaimed king of England since Parliament's execution of his father King Charles I the previous year, gave a commission to his estimable supporter Sir Richard Browne (1605-1683). These two parchments, one in English, one in French, authorised Browne to 'recover' taxes due to the Crown, by capturing 'rebellious' English ships and requisitioning cargoes.
Charles was desperately short of money in exile, relying on the goodwill of his European family connections and their sympathy for his monarchist cause. He could generate small amounts of cash by such royal favours as a grant of baronetcy (£1095) or a grant of arms: in Browne's beautiful one of February 1650, shown here, there is an ostentatious look of costliness in its gold and carmine. However, the attempt to exact charges on English shipping was a speculative venture, and expense was clearly spared in producing Browne's commission at the King's temporary residence in the city of Breda (now the Netherlands).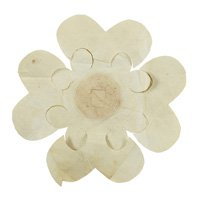 The commission documents are written under 'Privy Seal', the King's small seal for business matters, and they have been signed at the top of the text by the King himself (a signature known as the 'sign manual'). The privy seal impressions are made into cut paper of a doily-like appearance.
Flimsy though these somewhat home-made seals are, and the parchment thin to transparency, Browne's relics of his career with the King have well survived a Channel crossing and more than 350 years. Not so much restored as loyally preserved, Browne's many documents were kept in the family. His daughter and sole heir Mary had married John Evelyn (1620-1706), the diarist, and he died, a much loved member of their household at his family home of Sayes Court, after a life of 'great and loyal sufferings during 19 years exile…infinite changes and tossing to and fro, in the same house where he was born' (Evelyn's Diary 18 Feb 1683).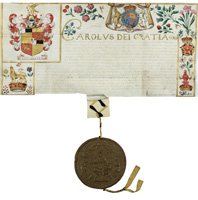 Evelyn himself served the King in a number of difficult commissions following the Restoration of the monarchy, but, an earnest and scholarly man, he was deeply disappointed in the corrupt and dissolute Court and disillusioned by the monarch he would remember as 'a prince of many virtues and many great imperfections' (Diary, 6 Feb 1685).
Browne's patient years of service to the King throughout the Civil Wars and the Restoration are memorialised in these documents, but it seems he received less in terms of tangible reward. Evelyn noted that the Crown still owed Browne's estate £12500 several years after his death (Diary 2 Jun 1687).
---
Images
French version of Sir Richard Browne's commission to requisition Crown taxes from English ships during the Commonwealth period, 30 Mar 1650. Signed by the King at the top ('Charles R') and authenticated at the foot by the privy seal and the signature of Robert Long the clerk. SHC ref 6330/7/4/6
Delicate paper decoupage impressed with the King's privy seal. SHC ref 6330/7/4/6 detail.
Grant of arms to Sir Richard Browne, 8 Feb 1650. The heraldic design and motto ('stronger in the Lord') are illustrated at top left and described in the Latin text. Signed by the King in Latin ('Carolus R') and appended with the Great Seal depicting the enthroned monarch. SHC ref 6330/7/4/17.