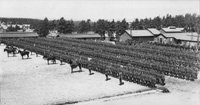 The 1st Battalion, The Queen's (Royal West Surrey) Regiment, was stationed at Bordon, Hampshire, when war was declared on 4 August 1914. Over the next two days, 580 men from the army reserve joined the battalion from the Stoughton Barracks (the Regimental Depot) in Guildford to bring it up to full strength. It was part of the 3rd Brigade of the 1st Division.
The battalion left Southampton aboard the 'Braemar Castle' on 12 August and landed at Le Havre the following day. It advanced to meet the enemy on the Franco/Belgian border and took part in the retreat from Mons and subsequent operations against the Germans.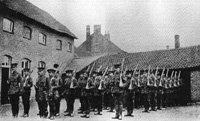 On 29 October, during the 1st Battle of Ypres, the 1st Queen's arrived at Gheluvelt to support the 2nd Battalion of the regiment. The following day the 2nd Queen's retired, and on the 31 October the Germans launched a strong attack on Gheluvelt. After fierce fighting, the 1st Queen's was decimated.
On the evening of 31 October, the strength of the 1st Battalion stood at 2 officers and about 40 NCOs and other ranks. It had lost nine officers, and 624 NCOs and men were killed, wounded or missing. The commanding officer, Major Watson, and Lieutenant Boyd, collected together 200 assorted stragglers on 1 November, who held a line over the next few days until relieved on 5 November. Four days later, on 9 November, the battalion was reorganised as one company of two officers and 170 NCOs and men (including men attached from other units).
Images
Select image to view a larger version.
1st Battalion, The Queen's, on parade at Bordon, August 1914 (SHC ref QRWS/2/13/7/package2/38)
Survivors of the 1st Battalion, 9 November 1914 (SHC ref QRWS/2/14/5/11)
The Queen's, report from The Surrey Advertiser, Monday 23 November 1914