Surrey History Centre recently received two photographs relating to the machine gun sections of the Territorial Force during the early part of the First World War.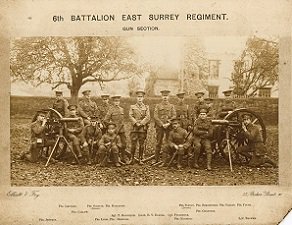 The photograph of the 6th Battalion, the East Surrey Regiment (SHC ref ESR/10/13/1/10A), is annotated '1914' and was taken at some point between the outbreak of war in August and the battalion embarking for India on 29 October. As a unit of the Territorial Force it was allocated two Maxim machine guns which were carried in the two limbers that a number of the men are sitting on. Many of the soldiers in the photograph have opted to serve overseas as can be seen by the Imperial Service Obligation (ISO) emblem worn on the right breast.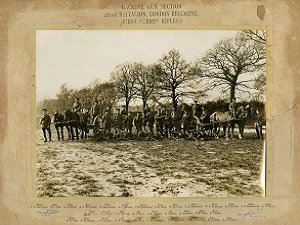 The second photograph can be dated to sometime between January and June 1916 when the 2/21st Battalion, the London Regiment, embarked for France (SHC ref ESR/16/2). This was a wartime unit raised in Camberwell in August 1914, and had moved to Sutton Veny, Wiltshire, at the beginning of 1916 where it is possible that the photograph was taken by the Bath photographer, Graystone Bird. The machine gun section is shown equipped with a Vickers machine gun and three Lewis light machine guns, the latter weapons being approved for service only in October 1915. The men are wearing leather belts which were issued as an economy measure as supplies of the 1908 pattern webbing were limited. The qualified Lewis Gun badge (LG within a laurel wreath) can be made out above the chevrons of F G Oliver and you can see how the number of men in the section has increased. From the condition of one of the horses pulling one of the limbers on the right, the photograph was probably taken early in the year.
These photographs are just two of many fascinating records of the First World War in our collections. If you are interested in donating or loaning Surrey-related material about the war, we would love to hear from you. You can email us at surreyinthegreatwar@surreycc.gov.uk. Learn more about the Surrey in the Great War project.