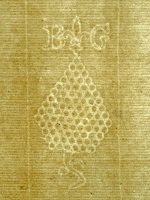 This large book (SHC ref LM/1327/6) belonging to Sir William More of Loseley (1520-1600) is being repaired in our conservation studio this year. The volume is a thumb's depth of thick French-made paper, which was bound and covered in vellum (calf skin), then new, with a stitched pig skin strap and buckle to secure it. It was made for More in the early 1570s, using costly materials, yet it was never showy. Now, after about 450 years, it is liver-spotted with mould, scarred with insect damage, with broken sewing and tears to the outer pages. In a sense, the book remained uniquely More's own into the 20th century, since it was kept as he left it, none of his descendants having upcycled the unused pages for their own accounts or memoranda, as has frequently happened to other volumes of the Loseley Manuscripts.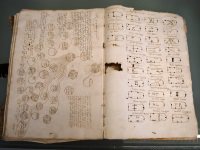 Faintly visible is More's title, 'My Landes'. It seems he began the volume with the business-like purpose of recording an overview of his property. More, a local justice, MP and faithful servant of the Elizabethan state, was a fully established member of the county elite. From his newly built mansion at Loseley (1560-1569), near Guildford, he looked out on his own estates to the horizon at the North Downs, and owned most of the rest of the land in view, as well as property in Blackfriars, the fashionable London address of the day. More's clerk has copied out leases to tenants, grants to More of such profitable rights as the ulnage of cloth (oversight of measures) and rental totals. Most of the pages document this rich attainment.
The final pages of More's book are in the worst condition, perhaps due to more use, or perhaps to the strain of the other weighty pages on the binding. A sombre portrait at Loseley commemorates More in 1576, as, already augustly bearded, he turned 56. An inset dark skull is beside him and its text 'MORE MEDITERE MORI', addresses the sitter, 'More, contemplate mortality'. Also in 1576, meditating on the personal side of his earthly estate, he began a new series of entries here, mostly a record of his family, and the landmarks in their lives.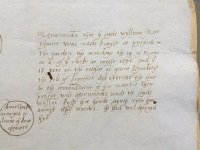 The pedigree of More is an eye-catching tangle of tendrils, sprawling from More's father Christopher (d.1549) - judging by the weight of the ink - and recording his forebears, and descendants as far as William's children, Elizabeth, George and Anne. Beside his genealogy, More records in careful Italic hand the proud epiphany of a summer evening at Pyrford Place, Monday 14 May 1576, when at Queen Elizabeth's bidding the Earl of Leicester knighted him, and the Queen 'made the said William kiss her hand, saying he had well deserved it'.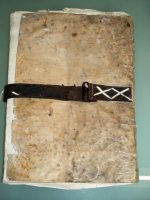 The following pages recount his birth, and the births - dates and hours - and baptisms of his children and 16 grandchildren, with the names of their godparents. Christopher More had made such a record of his own, on scant scraps of roughly stitched parchment. William's is a document of substance though, a worthy medium for the names assembled, of his dearly-held family members, and their network of honoured connections, including Queen Elizabeth herself, who stood godparent to More's grandson Francis Wolley, by her proxy Elizabeth, Lady Clinton, along with the Earls of Lincoln and Leicester.
At the end a record of the 'swan marks' of many of the notables who owned birds on the Thames (including More) points to a ceremonial role awarded to More in his 70s. More did not return to the book after 1597; he died in 1600. Not here, but elsewhere More wrote of his interior life (SHC ref LM/1617): so perhaps to us then, the book does not answer as an encyclopaedia of himself, as he had perhaps intended. It nevertheless stands as his material survey of his time on earth.
The book's restoration has begun with removal of the cover, which will be preserved separately. The pages are disbound and each has been brushed, then washed to remove soluble stains and harmful impurities within the fibre structure. Deacidification counters acid from mould and replaces alkaline content in the paper. The first pages have now been repaired. Eventually the text block will be re-sewn, and we can read of More as he once did himself.
Images
Select image to view a larger version.
Watermark of grapes surmounted with fleur de lys suggests southern France as the origin of the book's paper, a luxury commodity (SHC ref LM/1327/6)
Pages showing pedigree of the More family and record of 'swan marks' (SHC ref LM/1327/6)
William More's memorandum of being dubbed knight at Pyrford Place in 1576 (SHC ref LM/1327/6)
William More's book in original binding (SHC ref LM/1327/6)