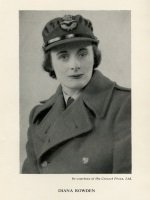 March is Women's History Month and 8 March is International Women's Day, both of which celebrate women's achievements and contributions to the past and present but also raise awareness against bias and campaign for future equality.
Diana Rowden and Elizabeth Cox attended Manor House School in Limpsfield together in the early 1930s. They formed a friendship although Elizabeth would later write that Diana seemed distant, perhaps missing her childhood home in France, and observed that she was more mature than her contemporaries. Diana had a disrupted education; it was not long before she left Manor House and in 1933 returned with her family to France where she continued her education in languages and began working as a translator and freelance journalist.
Her friend, Elizabeth Cox, also became employed as a journalist; the 1939 register shows her living at 86 Warwick Way, Belgravia, in Westminster. The register also notes that she had enrolled as a volunteer for the W.V.S. (Women's Voluntary Service). Diana, meanwhile, also committed herself to war work joining the French Red Cross when France was invaded by Germany in 1940 and, in a more clandestine way, working with Resistance groups to get wounded soldiers out of the country to freedom. Her hopes of escape must have seemed impossible after the Allied collapse in May, but, incredibly, in 1941 she managed to make her way to England via Spain and Portugal using the same escape lines she had helped to run throughout the invasion.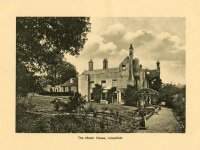 Once in England she joined the WAAF (Women's Auxiliary Air Force) and rose rapidly through the ranks attaining the rank of Section Officer. A year and half later, in March 1943, she was approached by senior SOE (Special Operations Executive) personnel who interviewed and recruited her for Operations. In June, after successfully completing intensive training (some of which was conducted at Wanborough Manor in Guildford), she received her first assignment; she would be sent into occupied France as a courier for Resistance groups alongside two other agents, Cecily Lefort and Noor Inayat Khan.
Diana settled into her covert life quickly. She organised supply drops of arms and ammunition and helped to successfully sabotage the Peugeot works at Sochaux, the factory having been tasked with making weapons for the German powers. However, shortly after her arrival in France the leader of her circuit, John Starr, was arrested – he had been betrayed by a double agent. Diana and her comrade John Young, a wireless operator, went on the run and secured separate hideouts in Clairvaux-les-Lacs in the east of the country. They managed to evade capture until November when their cover was blown, again by a false agent. Both were arrested by the Feldgendarmerie (German military police) and taken to Lons.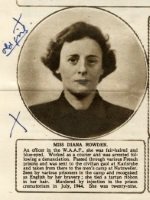 After suffering interrogation they were taken to Paris on the following day where they remained at Gestapo headquarters until 5 December and were likely subjected to further interrogation. They were then separated and Diana was transferred to Fresnes Prison just outside Paris which housed many résistants and Allied prisoners. The following May she, along with several comrades including Andrée Borrel, Vera Leigh and Sonia Olschanezky, were moved again to Karlsruhe prison in Germany. On 6 July 1944 all four women were taken from the prison to Natzweiler concentration camp. It was here that they were brutally killed.
In 1949, five years after Diana's death, Elizabeth Cox (by then Elizabeth Nicholas) discovered, quite by chance, how her friend had met her death after reading the verbatim report of Natzweiler Concentration Camp held at a war crimes trial at Wuppertal in June 1946. Elizabeth was so horrified by the accounts of what had taken place that she made the decision to find out as much as could and tell Diana's story which resulted in her book 'Death be not Proud'. Ten years later she wrote a powerfully moving article about Diana and her terrible fate for their former schools' magazine, a copy of which is held at Surrey History Centre SHC ref: 3195/5.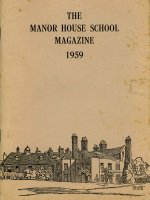 A page from the Illustrated London News dated 22 May 1948 and entitled 'Women who died for their country; Courageous Secret Service Agents', was also carefully preserved among the records of Manor House School. Annotated with the words 'Old girl' next to Diana's portrait and biography, it also highlights the work of 12 other female SOE agents who were murdered during the war, including Andrée Borrel and Vera Leigh who suffered the same fate as Diana at Natzweiler.
Diana was mentioned in Dispatches and posthumously awarded the Croix de Guerre (1939 to 1945) by the French government. Her name appears on the Runnymede memorial and the Limpsfield Roll of Honour.
A reference copy of Gabrielle McDonald-Rothwell's book 'Her Finest Hour: The Heroic life of Diana Rowden Wartime Secret Agent' is available to view at Surrey History Centre.
Images
Select image to view a larger version.