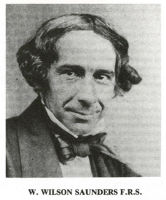 Surrey is a county celebrated for its gardens and natural beauty. Here we have delved into the Archives and Local Studies collections to unearth the story of a celebrated Victorian garden, its owner and gardener.
William Wilson Saunders (1809-1879) was by profession an underwriter at Lloyds of London but his life-long passions were entomology and botany. He was a member of the Linnean Society from 1833, and its Treasurer from 1861 to 1873. He was also a founding member of the Entomological Society and President (1841-2 and 1856-7), a Fellow of the Royal Society and the Zoological Society, as well as a vice president of the Royal Horticultural Society. He presented his first paper 'On the habits of some Indian insects' to the Entomological Society in 1834 and he owned substantial collections of insects of all orders. His Diptera collection contained many new species and were described in a series of papers entitled 'Insecta Saundersiani' by Francis Walker.
When, in 1857, he purchased Hillfield in Reigate, with 8 acres of land, he was already a well known naturalist and a man of considerable wealth but it was his sheer energy and enthusiasm that made an immediate impact locally. Within just a few months he had founded the Holmesdale Natural History Club, of which he remained President until 1874, begun a project that resulted in the landscaping of the Reigate Castle grounds and started the transformation of the estate into a plantsman's paradise.
To help him in this task Saunders employed a head gardener of considerable knowledge and experience. Charles Green was also a member of the Royal Horticultural Society and it is likely that they first met at the monthly meetings in London to which Green would often bring specimen plants from the garden in East Sussex where he was then employed.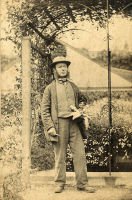 Using the 1851 census records we know that Charles Green was born c.1826 in Lewes, Sussex and at the age of 15 he was already employed as a gardener at nearby Henfield. His obituary in The Garden, Journal of the Royal Horticultural Society, in 1886, records that his first employer was William Borrer (1782-1862), a keen botanist, who travelled widely throughout Britain collecting and attempting to propagate native and exotic hardy plants, and whose garden at Henfield contained over 6,600 different species.
As Saunders' head gardener, Green would have been involved in all his employer's specialist interests and in much of the practical work involved in developing one of the largest botanical collections in a private garden at that time. The extent of the specialist plant houses and the collections of 'at least twenty thousand species' is revealed in detail in two articles in The Gardeners' Chronicle and Agricultural Gazette of November and December 1872.
'There are gardens in which plants play quite a subordinate part... and there are gardens kept up, tended and cherished, for the sake of the plants in them... Mr Wilson Saunders' establishment is certainly one of the most interesting gardens that one can set foot in'. The author then describes the 'vast assemblage of plants' and how 'Mr Saunders and his excellent gardener Mr Green from their great knowledge and experience' cared about every specimen in the collection, many of which were housed in specialised buildings including a fern house, an orchid house, a succulent house, several conservatories, a yucca house and even an arid house. 'Can we be at Reigate? Surely we must be in some Brazilian or West African forest? The strange forms, the deep shadows, the damp hot air...all make us think of a tropical forest.'
So it must have been a devastating blow to both men when, in 1873, Saunders suffered almost total financial ruin following the loss of over-insured unseaworthy vessels and the collapse of the marine insurance business. Saunders was forced to dispose of his large collections of insects, plants and botanical watercolour drawings and to sell Hillfield before retiring to Worthing with his wife and family. In the period following the sale of the house Green attempted to set up and run a nursery business of his own, possibly with some of the plants from the estate, but the project was not a commercial success. However his reputation was such that, by 1881, he was again employed as head gardener, this time working for George Macleay, also an eminent botanist, at Pendell Court in Bletchingley.
Green continued working at Pendell Court, possibly right up to his death in 1886. His obituary notices tell of his frequent attendance at meetings of the Royal Horticultural Society where he took with him examples of the plants he had grown at Hillfield and Pendell and of his ability to impress others with his enthusiasm and understanding of the plants he loved.
Images
William Wilson Saunders from Holmesdale Natural History Club 125 years 1857-1982, 1982 (SHC library ref 367)
Charles Green c.1826-1886 (SHC ref 3770/1)
Sources
Pooley, Julian, 'Charles Green, Head Gardener to William Wilson Saunders of Reigate', Surrey History, Vol.4 no.3, 1990 (SHC ref J/146/18)
Holmesdale Natural History Club, Holmesdale Natural History Club 125 years 1857-1982, (1982). (SHC library ref 367)
Censuses 1841-1881
Royal Horticultural Society, The Garden Vol.30, 1886
'Hillfield, near Reigate', The Gardener's Chronicle and Agricultural Gazette, 23 November and 7 December, 1872 (SHC ref 635p)