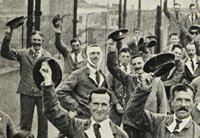 Arthur Ernest Spooner, along with many others, volunteered to serve his country and joined the Queen's Royal Regiment (West Surrey) in Woking on 23 September 1914 aged 21. Arthur was sent to the newly created 7th (Service) Battalion of the Queen's along with many other local men. At 5' 11" Arthur was above average height and was soon picked out as a leader of men. He was promoted to Lance Corporal on 1 March 1915 and full Corporal on 3 October 1915.
After training, which was carried out mainly in civilian clothes and with wooden rifles, Arthur's battalion left England, landing in France on 27 July 1915 as part of the 18th Infantry Division, and soon continued training both in and out of the trenches.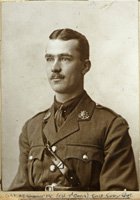 At 0730 hours on 1 July 1916, along with over 100,000 other British and Allied soldiers, the 7th Queen's attacked, the battalion's objective being the strongly-held German trenches defending the ridge just west of the village of Montauban. Their attack succeeded in achieving its first day objective, something that very few Divisions managed, but Arthur was wounded in the head and was eventually sent home to recover from his injuries.

Arthur returned to France later in the year and was promoted to Sergeant in early 1917 but, with all the losses sustained in 1916, battalions were asked to select men suitable for commissioning as officers. Arthur's commanding officer, Lt Col Christopher Bushell (later to be awarded the Victoria Cross), sent him home to undertake officer training. He successfully completed the training and returned to the front as a 2nd Lieutenant, transferring to the 8th Battalion, The East Surrey Regiment, on 5 February 1918.
2/Lt Spooner soon found himself in the thick of the fighting again in March 1918 during the Kaiserschlacht, the final major German offensive of the war. He received a battlefield promotion to Acting Captain and, whilst commanding a company, was awarded the Military Cross for his part in helping to stem the German assault. The following citation appeared in the London Gazette dated 7 November 1918, just four days before the Armistice:
2nd Lt. Arthur Ernest Spooner, East Surrey Regiment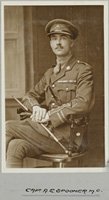 For conspicuous gallantry and devotion to duty during an enemy attack. He collected detached parties of men and established them on a line of resistance. Finally he skilfully withdrew, and established a line further back, which he held on to most gallantly under heavy barrage until relieved.
Arthur survived the war and was released from military service on 22 March 1919. He returned to civilian life but it appears that his service wasn't completely over as he joined the Home Guard in 1940. Surrey Infantry Museum will continue to research Arthur Spooner and aims to add his story to the Surrey in the Great War: A County Remembers website.
---
Images:
Corporal A E Spooner, 7th Battalion, East Surrey Regiment. Wounded man with bandages around head (SHC ref QRWS/30/MERR/1/page 41)
Lieutenant Arthur Ernest Spooner MC, 8th Battalion, The Queen's (SHC ref QRWS/30/MERR/1/page 353)
Captain Arthur Ernest Spooner MC, 8th Battalion, The Queen's (SHC ref ESR/18/2/1/page 17)