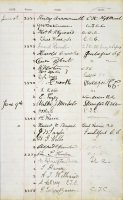 From the 1870s the popularity of cycling grew rapidly and local clubs sprang up around the country. Many clubs supported racing and social activities and the Cyclists' Touring Club, founded in 1878, also encouraged people to travel further and explore the countryside or even tour overseas. Epsom Cycling Club was founded in 1891, the Charlotteville Cycling Club in Guildford in 1903 and Kingston Wheelers in 1924; all are still going strong today.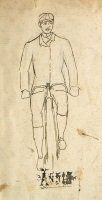 The Portsmouth Road route out of London, the old A3 road, was hugely popular with cyclists and the Anchor Hotel at Ripley became a mecca for cyclists stopping along the route. The hotel was run from the mid 1870s by Mrs Harriet Dibble who, with the aid of her 2 unmarried daughters, Harriet and Annie, provided refreshments and accommodation for cyclists. Books for visitors to sign were kept and those that survive from 1881 to 1895 are a fascinating record of all those who passed through. At its peak the number of entries per year in the books exceeded 6000. The author H G Wells, an enthusiastic cyclist, was one of those who signed the books on 9 June 1887 (Surrey History Centre (SHC) reference 7597/8) and the books are also decorated with some sketches of cyclists (SHC reference 7597/6).
John Dennis (1871 to 1939) opened his 'little cycle shop', otherwise known as the Universal Athletic Stores, near Guildford Bridge, in 1895. Soon he was joined by his brother Raymond (1878 to 939), and the partners progressed from 'Speed King' bicycles to motor cars before starting to build fire engines. Many other businesses grew up to support the growing numbers of cyclists and motor vehicles which took to the roads. Arthur Ryde at the Forge at Westcott was described as 'cycle agent, vulcanizer, ironmonger, shoeing and general smith'. Specialist shops also opened to cater for cyclists, such as A Pullinger's motor cycle and cycle shop at Westway, Caterham, photographed in 1923 (SHC reference 4209/3/73/3).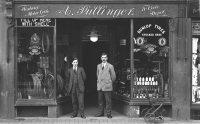 Maps were produced to cater for cyclists, such as Bacon's county map of Surrey, c.1900, which included cycling routes with places and distances between them, and the London sheet of Philips' topographical map of England and Wales, circa1910, which showed the area of London and surrounding counties and marked main cycling routes with symbols for degrees of safety and mileage.
Surrey has always been a popular destination for cyclists, and interest has increased considerably since iconic Box Hill was used as part of the route of the road race at the 2012 Olympic Games. Thousands of amateur riders now take part in the annual Ride London-Surrey 100, following the Olympic route.
Please click on the images to enlarge them.