Changing Communities
Town and village guides are a valuable source for the study of the growth and development of our local communities. They often outline plans for housing developments as well as the establishment of new industrial and manufacturing infrastructure. Throughout the twentieth century they reflect the desire of town councils and local chambers of commerce to promote their localities to prospective residents and tourists as well as to the existing inhabitants, giving details of local beauty spots, educational and recreational facilities.
As our local communities developed into the commuter towns and villages of today, these guides reflect the changing concerns of local residents, emphasising the good transport links to London, Kingston and Croydon. The advertisements carried in these publications are reflective of the social changes; as an additional bonus they are often wonderful examples of typography.
Guides held at Surrey History Centre
We have an extensive collection of town and village guides; the examples reproduced here are an indication of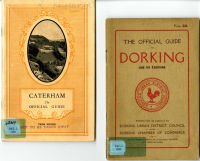 what we hold:
Caterham: the official guide. 3rd edition; Caterham UDC (Burrow and Co c. 1927)
Dorking and its environs: the official guide to Dorking, Abinger, Brockham, Capel, Coldharbour, Holmbury, Holmwood, Newdigate, Ockley, Westcott and Wotton. written by E R Wells for Dorking UDC and Chamber of Commerce (Holmsdale Press, c. 1909)
Egham Urban District 1905-1974: commemorative edition of the official guide (Egham UDC, 1973)
Esher including Claygate, Cobham, The Dittons, Esher, Hinchley Wood, the Moleseys, Oxshott, Stoke D'Abernon: the official guide. Esher UDC (Burrow and Co c.1958)
Search the Surrey Library Services catalogue for the town and village guides held at Surrey History Centre.