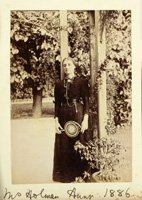 The archives of the Lushington family of Ockham Park and Pyports, Cobham, contain a wonderful series of photograph albums (SHC ref 7854/4/47/3/1-11) recording the lives of the family and their social and artistic circle in the years between 1853 and 1910. The albums illustrate many of the correspondents who feature in the thousands of letters in the archive.
One album is devoted to important views of the interior and exterior of Ockham Park from the 1860s and 1870s. They are especially significant as the house was gutted by fire in 1948. There are also photographs of Pyports at Cobham and the Lushingtons' London house, 36 Kensington Square.
Vernon Lushington (1832-1912), an eminent lawyer and friend to artists, authors and activists, and his wife Jane (1834-1884) had three daughters: Susan (1870-1953), Margaret (1869-1906), who married Stephen Massingberd of Gunby Hall, Lincolnshire, and Katherine 'Kitty' (1867-1922) who married Leopold Maxse the journalist and political writer whose family lived at Dunley Hill near Effingham.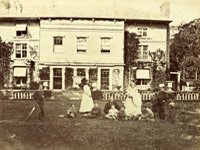 Their friends, many of whom feature in the albums, included such notable families as the Vaughan Williams of Leith Hill Place and High Ashes; the Darwins of Down House, Kent, and Cambridge; the Farrers of Abinger; the Montgomerys of Blessingbourne, Ireland; the Bells of Rounton Grange and Mount Grace Priory; the Howards of Naworth; the Stanleys of Alderley; the Rathbones of Liverpool; and the Stephen family. It was Kitty Lushington's friendship with Virginia Woolf (née Stephen) that led to her being used as the model for Mrs Dalloway in Woolf's novel of that name.
There are also portraits of artistic friends, including the composer Sir Hubert Parry; the Pre-Raphaelite painter William Holman Hunt and his wife Edith; George Howard, 9th Earl of Carlisle ('the artist Earl'), and the painter and interior designer Vanessa Stephen, Virginia Woolf's sister, who married Clive Bell.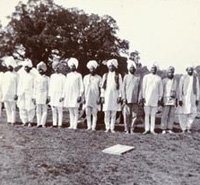 Royal events also feature including Queen Victoria's Diamond Jubilee, preparations for the coronation of King Edward VII, and views of India which Susan Lushington visited for the Delhi Durbar in 1903.
No set of albums would be complete without family pets, including a variety of dogs and a number of horses that the Lushingtons loved to ride.
Images
Select image to view a larger version.
Edith Holman Hunt leans wanly against a leafy pergola in best Pre-Raphaelite style, 1886 (SHC ref 7854/4/47/3/7)
West front of Ockham Park, with Vernon Lushington and various children, 1870s (SHC ref 7854/4/47/3/1)
Indian troops camped at Hampton Court, as part of the preparations for the coronation of King Edward VII, 1902 (SHC ref 7854/4/47/3/8)