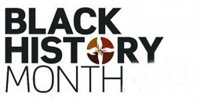 October is Black History Month, and Surrey Heritage is proud to celebrate this international campaign. For centuries Black people have lived and worked in Surrey, and a range of Black History case studies featuring all aspects of life in the county can be found on our Exploring Surrey's Past website, accompanied by research resources and a bibliography.
The Vaughan Williams sketches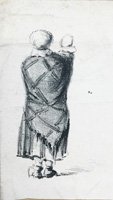 These four fascinating sketches of Black people are a perfect example of the wonderful, unexpected finds that can be discovered in archive collections. They are an almost stereotypical characterisation of African Americans in the 1860s, including a woman, wrapped in a shawl holding a baby, a man in a turban, a man smoking a clay pipe, and two men, in patched, ragged clothing, also smoking clay pipes. The items were among a vast quantity of family papers deposited by a descendant of the Vaughan Williams family, in the late 1990s. The collection (Surrey History Centre reference 6536) contains personal and business papers of many family members including Surrey's famous composer, Ralph Vaughan Williams. The family travelled widely, and there are sketches, watercolours and early photographs of people and places they visited, ranging from market traders in Krakow to the Crown Prince of Saudi Arabia.
The sketches come with no other provenance which makes cataloguing them in detail very difficult. Providing an accurate catalogue description is vital – it is the means by which our users identify whether an item is relevant to their research and turn an overlooked and invisible source into an unexpected gem. To achieve this, Surrey History Centre staff followed a detective trail to discover more about these fascinating drawings, in the process contacting some of the UK and America's largest and most specialist research institutions.
'CR' or 'RC' - who was the artist?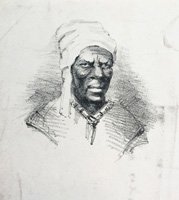 All sketches are in the same hand and the largest sketch carries an artist's monogram 'CR' or 'RC' written in between the date '1863'. There is no family member or person mentioned in the papers with those initials, although intriguingly, there is a pen and ink sketch annotated 'drawn by Walty Williams in 1879 and given to CAR April 1888'. However, we do not know who 'CAR' is. Perhaps he or she was an artist and identical to the 'CR' of these sketches. A couple of family members were keen amateur artists but none of their work matches the style or date of those in question.
After rigorously searching online catalogues, artist reference works, and liaising with other institutions, including the Black Cultural Archives, British Library and the Victoria and Albert Museum (V and A), we still have not been able to identify the artist. Whoever it was, the drawings are expressive, confident and well-executed.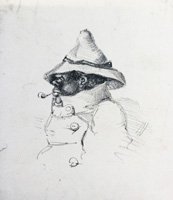 The sketches are all on wove cartridge paper (not ribbed or watermarked) and, although originally drawn in charcoal and pencil, may actually be the product of some form of lithographic printing process. However, a conservation test on them has proved inconclusive.
Experts at Tuskegee University, in Alabama, USA, suggested that they may well be book illustrations, and this theory is perfectly plausible given the literary and artistic interests of the Vaughan Williams family. The sketches are similar in style to those featured in Joel Chandler Harris's Uncle Remus stories (published in book form in 1881). The work of artist Frederick S Church, who first illustrated Uncle Remus, is the most similar, along with Edward W Kemble's illustrations for Mark Twain. Perhaps an artist working contemporaneously employed the same style?
Who were the subjects?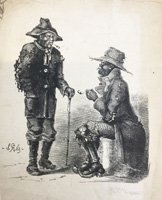 The facial features of the Black men are expertly drawn but seem a little exaggerated. The man wearing the conical hat in one of the smaller sketches also features in the larger sketch, showing him in conversation with another man, both of them wearing ragged, patched clothing. This second man looks to be wearing a US Confederate soldier's coat and both are wearing very distinctive clog-style boots. The 1863 date of this sketch puts it right in the middle of the American Civil War. Slavery in America did not end until December 1865, so were these men plantation slaves?
No UK or American institution that we contacted has similar sketches in their collections; even a search of the British Library's Vaughan Williams collection did not prove successful. However, analysis of the clothing by the V and A's and our own historic costume experts raised the possibility of the subjects all being 19th century African American workers on a cotton plantation. Indeed the following links show men and women wearing very similar hats and head scarves Getty images and Wikipedia.
African American plantation worker, slave or freed slave, seems to be the most likely identity for the people in these intriguing sketches. Perhaps the drawings were brought back from America by a member of the Vaughan Williams family or a friend? If you have any information which might help us identify these sketches further we'd be delighted to hear from you at shs@surreycc.gov.uk
---
Acknowledgements
With thanks to Jane Lewis, Surrey Heritage's costume expert, Louise Cooling, Assistant Curator, Paintings, Victoria and Albert Museum, and Dr. Jontyle T. Robinson and Jean R. Belt, of Tuskegee University, Alabama, for their help with this research.
Sources
Images
Select image to view a larger version.
Sketches of Black people from the Vaughan Williams family papers (Surrey History Centre reference 6536/458 (1 to 4), comprising:
Woman holding a baby (Surrey History Centre reference 6536/458 (1)
Black man in a turban hat (Surrey History Centre reference 6536/458 (2)
Black man in a conical hat, smoking a clay tobacco pipe (Surrey History Centre reference 6536/458 (3)
Two Black men in conversation, smoking clay tobacco pipes (Surrey History Centre reference 6536/458 (4)