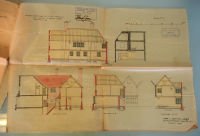 A tracing is made by copying the lines of a drawing or plan on to a transparent sheet that is placed over the original. Tracings are frequently found in archive collections, particularly among architectural and engineering records, and their often-fragile condition can present real challenges to our conservation team. Although usually intended as intermediate steps in the final drafting of plans and treated virtually as disposable items, they often have enormous cultural value in their own right. A good example is this meticulously traced plan of Little Tangley in Wonersh near Bramley by architect Edwin Lutyens in 1898.
The earliest type of media used for tracing was parchment made from the foetus of an unborn calf treated to provide transparency. Such materials were used by mediaeval illuminators to trace original paintings and manuscripts. More recent types of tracing media to be found are:
Natural tracing paper which is free of chemicals, but mechanically treated to achieve translucency. Problems include loss of flexibility and strength from heavy beating and short fibres, along with an inability to react to changes in Relative Humidity and temperature.
Prepared tracing paper where agents are applied during manufacture to produce transparency. Transparentisers such as starch, waxes, varnishes, oils and resins are used to fill voids between fibres, creating a highly glossed and flexible paper.
Imitation parchment 'Glassine' is manufactured at high pressure and temperature, a costly process, producing a glossy and strong paper.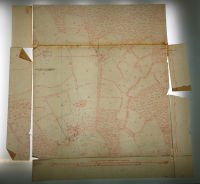 Characteristic damage to tracings occurs through production, as the oxidation of oils will lead to degradation. Further damage is caused by a variety of factors, including handling (such as frequent copying), storage, environment, dehydration, brittleness, stamps, fading media, and dimensional change.
Due to the fragile nature of the paper, the cleaning of tracings usually requires a great deal of care and expertise. Dry cleaning is often impractical if not impossible. However, a soft brush can be used to remove loose surface dirt. We have found that a successful method is to swab the surface lightly with cotton wool soaked in a water-soluble polymer solution - Sodium Carboxymethyl Cellulose (NaCMC) - and water.
Our general rule of thumb for dealing with tracings is: "If brittle do not roll – if rolled and brittle, leave rolled!" However, when necessary, rolled tracings, particularly very brittle items, will need to be humidified before they can be unrolled to relax the document. Such a process involves exposing the tracings to relative humidity at or higher than 60%, with the amount of moisture and exposure being dependent on the nature of the paper.
A range of options is available for the treatment of tracings, once coatings, linings and adhesives have been examined to determine the best course of action. Creases can be relaxed with localised water, they can be moistened and heated with a tacking iron, or they can be humidified and dried under a hot-press. Small repairs and infills can be made with a heat set tissue (Beva 371 in Petroleum Spirit). For treating a tracing with many tears and creases, lining the document with a tissue is an option using either Sodium Carboxymethyl Cellulose [water soluble polymer] or a starch paste as an adhesive.
Once treated, we recommend that the tracing be placed in a folder or portfolio, depending on size: and stored flat in a plan chest drawer. As regards handling and viewing, the best option is to encapsulate the fragile document in polyester, (a chemically stable material), allowing it to be visible through the clear film.
Tracings are found in great abundance in the records of Dennis Specialist Vehicles Ltd and in buildings control plans held at Surrey History Centre.
(With acknowledgement to T Jones)