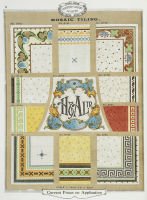 Hooper and Ashby were one of Britain's best-known firms for the sale of building materials, particularly to the building trade. The firm was in existence from as early as 1812 and finally closed its books in 1968. It was based at Southampton, but had branches all over England, including one at Guildford, with a yard in Walnut Tree Close.
The catalogue (SHC library ref 691), from which these illustrations were taken, is held in our reference library. It is a magnificent example of the lithographer's art, with beautifully coloured illustrations showing the range of, for example, coloured tiles for every purpose and stained glass. There are even coloured paint charts, just like those you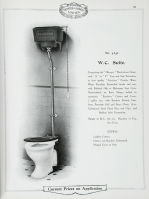 will find in any modern DIY centre today.
Much more down-to-earth materials were also shown, such as sanitary ware and kitchen ranges, which could be supplied in any size, to households from mansion to terraced cottage.
The catalogue is undated, but a close examination of the styles show the 'Art Nouveau' in its last, popular phase and there are signs of the more pared down, streamlined lines which eventually brought in the jazz age designs of the 'Art Deco' movement. This probably dates the catalogue to the years immediately before the Great War, c.1912-14.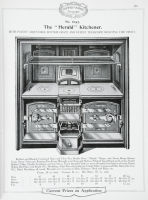 It would have been possible, by using the catalogue, to purchase a house in kit form, selecting every item of choice, from bricks, tiles, drains and household gadgets, to fire extinguishers and garden furniture, and then have it built to your own design – assuming the local authority allowed you to do so!
The typical range of goods supplied by Hooper and Ashby can be seen in a page from a ledger of 1937-38 which lists roofing materials delivered for work being undertaken on Polesden Lacy, a very grand house near Great Bookham, now belonging to the National Trust.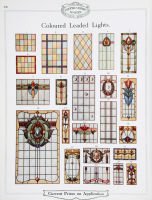 The work was sub-contracted to 'Guildford Roofing, Tiling and W. G. Tiling', whose name is inscribed on the ledger. The indexed Hooper and Ashby ledger (SHC ref 1653/1) is among our archive holdings and can be consulted at Surrey History Centre.
Select image to view a larger version.