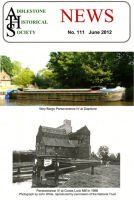 The Local Studies collection at Surrey History Centre includes over 150 current newsletters, magazines and journals, all of which provide detailed information about local people, events and history from every period. Much of the information in these periodicals is ephemeral and will never appear in published books, so it is especially important for us to collect and index them for future generations as well as for current researchers.
The organisations represented are wide-ranging; from local and family history societies like the West Surrey Family History Society and county wide, long-established organisations such as the Surrey Archaeological Society, to specialist groups such as the Surrey Bottle Collectors Club or the Surrey Postal History Group. All contribute enormously to our understanding and appreciation of the county's rich culture and heritage.
Addlestone Historical Society News
The example featured shows the most recent issue of the Addlestone Historical Society News which has been published quarterly since 1984. Amongst other things it contains pictures and an article about one of the last River Wey barges, Perseverance IV, which is moored at Dapdune Wharf in Guildford. This horse-drawn barge, built at Dapdune by GJV Edwards & Sons and launched in 1935, was used to transport bulk wheat from London Docks to Coxes Lock Mill in Addlestone, where it was turned into flour. It is a reminder of the importance of the canal network to the industrial and commercial history of the county well into the 20th century.
The National Trust has recently launched an appeal to raise funds with the intention of restoring Perseverance IV for public boat trips on the river.
Surrey History Centre holds an extensive collection of Wey Navigation records dating back to the mid 17th century.
The journals can be searched on our online catalogue. Simply select Advanced Search, enter a search term (such as place) in the main search box and then use the reference J* in the 'Search for or within SHC catalogue reference' box.