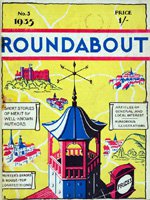 Charitable fundraising is nothing new, as this example of a Christmas annual, published in 1935 and held in our library collection, shows.
Throughout the twentieth century, annuals were published specifically for the Christmas market. Many organisations and publishers would use the popularity of such publications to help raise money for local good causes, as is the case of Roundabout: the Guildford Christmas Annual, printed by Biddles Ltd in 1935.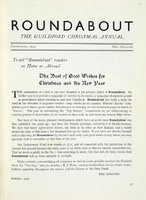 The readers of this edition of Roundabout were exhorted to put their hands in their pockets to help to endow a bed at the Royal Surrey Hospital, Guildford. To support the cause, there is a fascinating account of a day in the life of a hospital sister at the Hospital entitled "One Day" and illustrated with delightful line drawings by the author. The anonymous writer describes in detail her routines on the ward and the many patients and colleagues she encounters, providing today's reader with a significant insight into what it was like to work in a hospital before the establishment of the NHS.
Roundabout provides something for everyone, with both fictional and non-fiction content. There are the informative articles, A sensitive short-wave converter by B Bennett, ATS (author of Practical Television Handbook) and The great new river of gold by Rue Stanford, which features the construction of the Trans Jordania oil pipeline from Kirkuk to Haifa.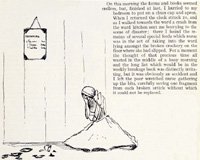 There are also humorous items, poems, jokes and puzzles. Competitions include "spot the printer's error" with valuable prizes ranging from a Hercules sports tourist bicycle to a pair of real tortoiseshell spectacles and an iced cake!
The publication also includes a good selection of short stories by well-known authors including; "The Ghost of Sprockleby Hall" by A F Mason; "Harvest Moon" by H E Bates; and "The Old Horse" by John Arrow.
Local businesses were able to place advertisements in this publication and these help to give us a snapshot of life in Guildford and the interests of its residents before the onset of the Second World War.
Images
Select image to view a larger version.
Cover of Roundabout: the Guildford Christmas Annual, 1935
Editor's Letter
Illustration and text from "One Day" by a Hospital Sister, Guildford Hospital