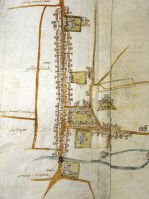 Since 1348, when the Black Death arrived, there had been intermittent outbreaks of plague throughout the country. Bubonic plague was spread by fleas on black rats carrying the pestis bacteria. The plague could also be spread from human to human by coughing, sneezing or by infected blood. Those infected would develop buboes, usually on the neck, armpits and the groin area, and death would almost certainly follow. The house where the victim was living would be 'shut up', along with any other occupants to await their fate.
However years could go by with little or no sign of the plague, but in 1644 at the height of the Civil War the plague arrived in Guildford.
We learn from correspondence amongst the Loseley Manuscripts that, due to the war, Sir Poynings More of Loseley often spent time in London, but was kept informed of events by his friend Joseph Wight.
In an undated letter, probably written in August 1644 (SHC ref LM/Cor/5/58), he writes:
'…I thank God we be at present both at Loseley and Catherine Hill in good health. My man had the sore hath been by himself at work these 10 days and the maid servant that tended him Hethred hath not complained of any sickness nor sores. I had one maid servant at Loseley, which some week after our coming did complain, but I think it was because we have no water, but what we fetch at the pond to dress victuals, and she being weary of that would be lazy sick, so we sent her away to Catherine Hill, where she was quickly well, and is, to this day. And I pray God of his Mercy keep us all so. The infection sp[r]eadeth very much in the town [Guildford], this last week it broke forth in 4 fresh houses. In some houses it hath swept away all, and we fear that it will do so at the Red Lion. There have been 6 or 7 already buried and Mrs Newland and all the rest in the house very sick. Your servant Robert Brown's (God be praised) house is yet free. There be 6 or 7 houses in St Nicholas Street shut up, which will be a very great charge unto us. The committee have promised us some relief. Stoke is as bad as Guildford. It is also begun in Shalford Street, there hath 2 been buried this last week out of Shalford and in from Bramley, and at Albury there are some shut up. The number that at Guildford are dead of this infection is near a hundred. I pray God in his good time turn away there his Holy judgements from us…'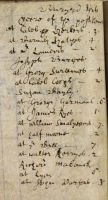 He ends the letter 'The sword and plague are two sore judgements'.
This entry from the Guildford Holy Trinity Register, reference GUHT/1/1, records the deaths in various houses in the parish, during 'This year of the Pestilence'. The St Mary's register also records several burials including 'William Cowper, tailor and two of his children' and 'Marie the wife of Thomas Street and also three children'. Unfortunately the St Nicholas register does not record any burials for 1643 or 1644.
Images:
Map of Guildford in 1617, SHC ref G111/2/3
Entry from the Guildford Holy Trinity Register, SHC ref GUHT/1/1