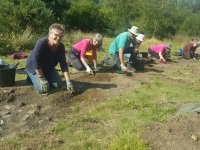 In 2019, Godalming Museum was awarded £63,900 from the National Lottery Heritage Fund to carry out an exciting new community archaeology project at Witley Camp. Once a bustling military camp home to 20,000 British and Canadian soldiers and a veterinary hospital in the First World War, the area today has returned to woodland with little trace of any remains. Volunteers from the local community were invited to join professional archaeologists from Surrey County Archaeological Unit (SCAU) to carry out landscape surveys and excavations, learning new skills, meeting new people and increasing awareness about the site. Throughout the summer of 2019, the National Trust owned site was investigated and recorded, ensuring specific areas of interest from both the First and Second World War are identified and preserved for future generations.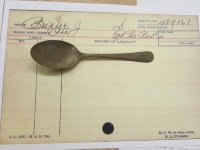 During the excavations, a spoon was uncovered with a service number stamped on the handle. Using online records from Libraries and Archives Canada, it was discovered to belong to Canadian John Baxter. SCAU volunteers were able to study all 70 pages of Baxter's military records to learn more about his time in the Canadian forces during the First World War.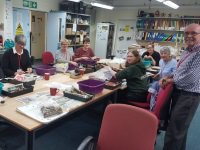 By the time John Baxter reached Witley Camp for the first time he was 22 years old. He had light brown hair and blue eyes and was 5 feet 5 ½ inches tall. He served with the Canadian forces from 5 August 1914 and came to Britain in 1916 with the 66th Regiment. He was soon posted to France, transferred to the Pioneers. In action at Vimy Ridge in 1917, he was wounded in the foot and spent the next few months in and out of hospital. The following year he married Nellie Martin, an English girl, before being posted back to France. He was soon an Acting Sergeant.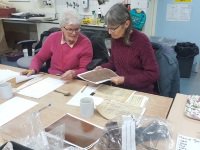 After the Armistice he returned to England and was posted to Witley Camp, in May 1919. He transferred to the Military Police from the Pioneers. He remained with them until just before he embarked for Canada in September. His wife and daughter, Doris, had already left for Canada in May. At some point while he was at Witley, he lost his spoon which had his service number on it. It lay in the ground for 100 years.
More information about the history and archaeology of the camps is available in a new publication, The Witley Camps in Two World Wars, by John Janaway and Hannah Potter. This book is available to purchase from the Surrey Heritage Shop.
Images
Volunteers excavating Witley Camp
The spoon found at Witley Camp
Washing finds from Witley Camp
Carrying out research on John Baxter