Guildford library has three rooms for community hire. Located near the top of North Street in the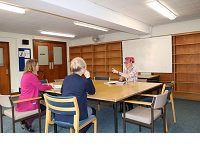 town centre with excellent transport links and close to pay and display parking.
Seminar room: The seminar room in Guildford Library is a large space ideal for conferences and lectures. Accommodates 20 people maximum, located on the second floor and includes the use of a screen and flipchart stand.
Third-Floor room: The third floor meeting room is a bright spacious room, perfect for meetings. Accommodates 4 people maximum.
Our Makerspace room (on the third floor) can now also be hired out. It is a room with a few tables, usually fitting up to around 12 people maximum.
Hire charges
Seminar room:
£22.50 per hour
£59 for half a days hire
£104 for a full days hire
Third floor room:
£12 per hour
£31 for half a days hire
£55 for a full days hire
Makerspace room:
£18 per hour
£47 for half a days hire
£83 for a full days hire
There is an additional Surrey County Council insurance cost (if the customer has no public liability insurance) of either 15% or £5 depending on which is greatest.
Availability
Monday from 9.45am to 5.15pm
Tuesday from 9.45am to 6.45pm
Wednesday from 9.45am to 5.15pm
Thursday from 9.45am to 6.45pm
Friday from 9.45am to 5.15pm
Saturday from 9.45am to 4.45pm
Sunday, not available, library closed
Room hire equipment
We have room hire equipment available at an extra cost of £10 (flat rate whether you use one or all of the items), including a brand-new projector, projector screen, Bluetooth speakers, projector table and extension cable.
These can be used in any of our rooms for hire but need to be requested at the point of booking so we can check availability.
Facilities
Wi-fi
Tables and chairs
Large whiteboard (Seminar room only)
Flipchart stand
Screen (Seminar room only)
The nearest public car park is five minutes walk away in York Road
If you would like to hire a room contact the library service or visit Guildford library to check availability.
We have rooms available for hire at other libraries. Please visit our rooms to hire page for more information.