The Pebble card
Children are never too young to join the library and the under 5's can have their very own Pebble library card.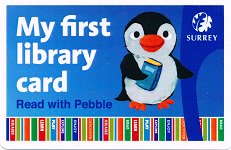 It's never too early to start looking at books with your baby. Regularly sharing books, stories and rhymes help to build a baby's early language skills and encourage a lifelong love of reading.
It's free to join and borrow books! Your child can borrow board books, picture books or talking books from our wide range for up to three weeks. Books can be renewed online or at the library.
How to join
Register online or visit your local library, taking along something with your name and current address to pick up your child's new library card.
Pebble's Reading Adventure
When your child joins the library they can take part in Pebble's Reading Adventure.
Every time they return their books to the library they will receive a stamp on their collector card. Once there are six stamps on the card, your child will receive a special reward.
Pebble Rhymetime and Storytime
Pebble Rhymetimes - everyone is welcome to come and join in with songs and rhymes at the library
Storytimes - Discover stories old and new with your child at the library
Having difficulty finding the right books?
Try having a look at the BookTrusts' online Bookfinder. You can search by age and interest.
You can speak to a member of staff the next time you visit, to see if we have the book available for you to borrow.
You can also search our online catalogue.
Are you or your family facing a new or challenging situation? We all experience times in our lives when we need some information and guidance. Please see our Life matters - how libraries can help webpage, for help and advice.
Early learning
Visit our Early Years section for information and advice about reading and literacy for young children. The first few years are the most important in your child's learning and development. As a parent or carer you have the biggest influence during this time and there are a number of ways in which you can help with their early development.
Group visits to the library
Libraries welcome visits from early years groups, school classes, Children's Centres, etc. Please contact your local library for further information.
Hungry Little Minds
The Hungry Little Minds campaign was launched by the Department of Education to encourage parents and carers to adopt positive activities and behaviours and boost children's communication, language and literacy development.
You can find a range of fun activities and useful resources tailored to the needs of children aged 0-5 on the Hungry Little Minds site.