Our collections
Out Lit is a collection of films and books that celebrates the art, experience and culture of the lesbian, gay, bisexual and transgender population.
Out Lit eBooks, eAudiobooks and eMagazines
We've got a wide selection of Out Lit eBooks that you can borrow immediately through the Libby app as well as a special selection of LGBTQI+ eAudio books through the BorrowBox app.
Try one of our LGBTQ+ interest magazines available through PressReader.
You can visit our eBooks, eAudiobooks and eMagazines page for more information about accessing our online products.
Out Lit new and classic fiction
We have a wide selection of new and classic fiction including science fiction, comedy and erotica.

Swimming in the dark by Tomasz Jedrowski
You were right when you said that people can't always give us what we want from them. Poland, 1980. Anxious, disillusioned Ludwik Glowacki, soon to graduate university, has been sent along with the rest of his class to an agricultural camp. Here he meets Janusz - and together, they spend a dreamlike summer swimming in secluded lakes, reading forbidden books - and falling in love. But with summer over, the two are sent back to Warsaw, and to the harsh realities of life under the Party. Exiled from paradise, Ludwik and Janusz must decide how they will survive; and in their different choices, find themselves torn apart.
---
The Madonna of Bolton by Matt Caine
Charlie Matthews' love story begins in a pebble-dashed house in suburban Bolton, at a time when most little boys want to grow up to be Michael Jackson, and girls want to be Princess Di. Remembering the Green Cross Code and getting out of football are the most important things in his life - until Auntie Jan - who everyone says looks like the blonde one out of Bananarama - gives him a gift that will last a lifetime: a seven-inch single called 'Lucky Star.' On his 9th birthday, Charlie discovers Madonna, and falls in love. And his obsession sees him through some tough times in life: being persecuted at school; fitting in at a posh university; a glamorous career in London; finding boyfriends; getting rid of boyfriends; growing up; and family heartbreak.
---
Out Lit memoirs
The Memoirs collection includes newly published memoirs as well as historical biographies:
Mama's boy: a memoir by Dustin Lan Black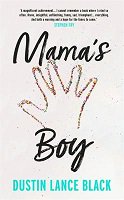 Raised in a military, Mormon household outside San Antonio, Texas, Dustin Lance Black always found inspiration in his plucky, determined mother. Having contracted polio as a small girl, she endured leg braces and iron lungs, and was repeatedly told that she could never have children or live a normal life. Defying expectations, she raised Black and his two brothers, built a career, escaped two abusive husbands, and eventually moved the family to a new life in Northern California. While Black struggled to come to terms with his sexuality - something antithetical to his mother's religious views - she remained his source of strength and his guiding light. Later, she would stand by his side when he helped bring the historic gay marriage case to the U.S. Supreme Court.
---

Diary of a drag queen by Crystal Rasmussen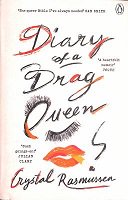 Northern, working-class and shagging men three times her age, Crystal writes candidly about her search for 'the one'; sleeping with an editor in an attempt to become a world famous journalist; getting hired and fired by a well-known fashion magazine; being torn between losing weight and gorging on KFC; and her need for constant sexual satisfaction (and where that takes her). Charting her day-to-day adventures over the course of a year, we encounter tucks, twists and sucks, heinous overspending and endless nights spent sprinting from problem to problem in a full face of makeup.
---
Out Lit books for young adults
The Out Lit collection for young adults includes some of the best writers of young adult fiction. This list includes authors such as Meg Rosoff, David Levithan, Julie Anne Peters and many more voices waiting to be discovered.
You're the one that I want by Simon James Green
After a particularly awful night when he embarrasses himself in front of Jasper Perry (the gorgeous teen star of his mum's new show), Freddie decides to follow a new, proactive philosophy designed to transform his social and romantic life: saying 'yes' to every opportunity. It works! Freddie finds himself auditioning for the school musical (Grease), actually going to parties, and flirting with hot new boy Zach! He's becoming a whole new Freddie - maybe even one that his mum might be proud of. But the path to love is never smooth, and sometimes getting things very wrong is an important part of figuring out what - and who - you really want.
---
The Black Flamingo by Dean Atta
A boy comes to terms with his identity as a mixed-race gay teen - then at university he finds his wings as a drag artist, The Black Flamingo. A bold story about the power of embracing your uniqueness. Sometimes, we need to take charge, to stand up wearing pink feathers - to show ourselves to the world in bold colour. 'I masquerade in makeup and feathers and I am applauded'.
---
Out Lit non fiction and guides
The Out Lit non fiction and guides collection includes guides on parenting for LGBT couples, civil partnerships, law and many titles which explore LGBT culture and history:
This book is gay by Juno Dawson
Former PSHCE teacher and acclaimed YA author James Dawson gives an uncensored look at sexual orientation and gender identity. Including testimonials from people across the gender and sexual spectrums, this frank, funny, fully inclusive book explores everything anyone who ever dared to wonder wants to know - from sex to politics, how to pull, stereotypes, how to come-out and more.
---
Overshare : love, laughs, sexuality and secrets by Rosie & Rosie
Rose and Rosie are known for their candid and hilarious YouTube videos - but now they are taking oversharing to a whole new level. Discussing sexuality, revealing secrets and empowering others, 'Overshare' is a book packed with Rose and Rosie's unique take on friendships, fame, mental health and LGBT issues. As visibly out members of the LGBT community, they open up about their own experiences, both together and as individuals, and have written this book in the hope that it gives strength to those who have faced similar difficulties. They are spreading a message of positivity and inclusivity, and want everyone to feel comfortable in their own skin, no matter what their sexuality.
LGBTQ film collection at Woking Library
We have put together a great selection of DVDs that touch on a broad spectrum of LGBTQ+ issues with hope, respect and honesty. These DVDs can be reserved and borrowed by any Surrey Libraries member across the county.
Here's our selection of unmissable titles
LGBT picture books
The LGBTQ+ picture book collection features same sex parenting and celebrates children who dare to stand out and be themselves.
Uncle Bobby's wedding by Sarah S Brannen
Chloe loves, loves, LOVES her special uncle Bobby. So when she learns that Uncle Bobby is going to be getting married to his boyfriend Jamie she's not at all pleased. What if Uncle Bobby doesn't have time to play with Chloe anymore? But after spending a fun-filled day with Bobby and Jamie, she soon realises she's not losing an uncle, but gaining a whole new one!
---
The Pirate Mums by Jodie Lancet-Grant
Billy's family is not what you'd call ordinary. His mums won't listen to NORMAL music. They love to sing sea shanties and dance jigs in the lounge. Their clothes are highly unusual, they have a rude parrot for a pet, and their taste in house design is, well FISHY. Billy wishes his family could be more like everyone else's. Until a swashbuckling adventure changes everything!
Can't find a book that you really think should be included in any of the collections above? Tell us about it via our Library stock suggestion form.
LGBT History in Surrey
Find out about Surrey's LGBT heritage by Exploring Surrey's Past or pay a visit to the Surrey History Centre.
Support, information and advice for the lesbian, gay, bisexual and transgender population