Community recycling centres
Coronavirus - Community Recycling Centres update 6 January 2021
Surrey's Community Recycling Centres (CRCs) will remain open, however the Revive re-use shops will be closed.
Please do not visit the CRCs unless your journey is essential – stay at home. You should not visit the CRCs if you are any of the following:
Extremely vulnerable and are remaining at home for shielding purposes.
Symptomatic with coronavirus (COVID-19).
In a 10-day household isolation.
Residents using a van, pick-up or trailer can use the sites again, but will still need a valid van permit and adhere to the van permit terms and conditions.
Introducing ANPR at our CRCs from March 2021 onwards
Surrey County Council is introducing Automatic Number Plate Recognition (ANPR) technology to thirteen of its fifteen Community Recycling Centres. The system will capture and read an image of visitors' vehicle number plates to enable monitoring of usage and to assist in identifying unauthorised users. The cameras will be rolled out throughout March with the system going live shortly thereafter.
Visiting a Community Recycling Centre
Information for customers with disabilities.
Whilst we are unable to offer any assistance to disabled visitors at the moment, nine of our larger CRCs can provide trolleys on request. For further information please check the page for the CRC you wish to visit beforehand.
Pedestrians cannot walk into any of the CRCs
Please also check the page for the CRC you wish to visit beforehand for exact details of waste that can be accepted at individual sites.
The following measures will be in place at all CRCs: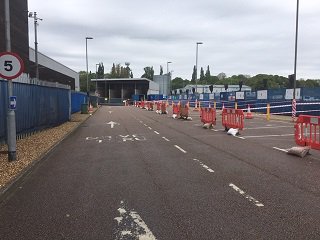 Upon entering the site you will be directed to a lane to wait until a bay becomes available.
---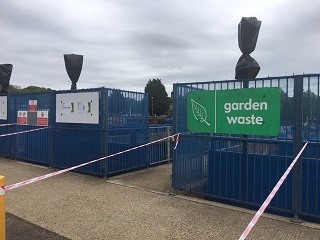 Once a bay becomes free you will be asked to reverse into a numbered bay.
---
There will be clearly marked walkways and only one person will be able to be on the gantries to access the containers at any time.
Once you have disposed your waste you will need to leave by the exit.
As a result of the social distancing measures, the number of people allowed on the site at any one time will be limited. It's expected that only a quarter of cars will be able to pass through the sites, compared to the typical peak time visitor levels at this time of year. Therefore, queues are expected and people should only visit the CRC if it's essential. We ask that you bear with us whilst operation of this restricted service gets underway.
Please treat site staff with respect and consideration during this challenging period.
---
Please see each individual community recycling centre (CRC) below for details of their addresses, opening hours and what you can and cannot take to them and any restrictions that apply.
---
Our community recycling centres
---
All 15 Surrey County Council Community Recycling Centres (CRCs) and our three waste transfer stations are run by SUEZ Surrey (formerly known as SITA Surrey).
Please note: We do not tolerate any form of abuse directed towards our site staff. Any serious incidents or threatening behaviour will be reported to the police and may result in council services being withdrawn.