Quick guide and location map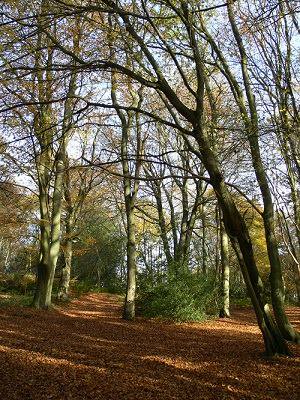 Situated near the Surrey border with Kent, this pretty, ancient woodland has a carpet of bluebells in the spring and a remarkable array of both plant life and wildlife to enjoy throughout the year. Please always follow the Countryside Code.
Quick guide
Address and references: Grants Lane, TN8 6GF
OS map reference: TQ412483
What3Words: Grants lane car park: bids.puff.prep and St Silvans car park: flies.march.shaky
Type of site: Local Nature Reserve, ancient woodland
Accessibility: easy access walk being upgraded, but currently unsuitable for wheelchairs and buggies find nearest accessible walk
Facilities: no toilets or refreshments onsite; two small free car parks at Grants Lane and Staffhurst Wood Road.
Nature to discover: birds, butterflies, mammals, amphibians and moths.
Dogs: please keep your dog under control.
Size: 39 hectares (96 acres).
---
Location map
On the map below, use the plus symbol to zoom in to see the locations of the site's paths and car parks and the minus symbol to zoom out to view where the site is situated in Surrey, and to see other countryside sites nearby. The home symbol resets the map to the default setting.
Staffhurst Wood is split into two by Staffhurst Wood Road. There are two car parks and also footpaths throughout the site that join up with unmade paths and tracks to offer many different walking routes. There are two car parks with the What3Words references:
Grants Lane car park: bids.puff.prep
St Silvans car park: flies.march.shaky.
Site details
Description
Located in the east of Surrey, Staffhurst Wood is a beautiful woodland site with a small area of grassland and a pond. The deciduous woodland is made up of species such as oak, ash and beech amongst others and some of it is designated ancient woodland. There are a small number of veteran trees on the site that survived clear felling for timber in the 1930s and use of the woods as an ammunition dump and location for troops stationed nearby in World War II.
Staffhurst Wood is home to a large variety of plant species, as many as 200, such as common spotted orchids and wood anemones. For the last 70 years, the wood has been managed to contribute to its biodiversity of species. The pond is home to great-crested newts and other amphibians.
Please take care of our countryside and open spaces by following the Countryside Code.
---
What you can do here
Enjoy woodland walks
Experience peace and tranquillity in the woods
Getting away from it all
Dog walking - under effective control
Self-guided walks
There is an easy self-guided route at Staffhurst Wood. Part of this is the Newt trail, a one mile surfaced accessible path suitable for buggies and wheelchairs. Follow the signs from the car park for the Newt accessible trail taking you through tranquil woodland. There is also a longer 2 mile Bluebell trail signposted on the information board.
There are other East Surrey self-guided routes nearby to discover.
The Greensand Way long distance trail, section 10, goes near Staffhurst Wood.
---
What you can see here and when
Spring bluebells: known for being one of Surrey's most stunning bluebell display sites in spring
Woodland walks with autumn colour
Flora and fauna to discover
Nature to discover: many species of birds and some mammals, newts, toads and other amphibians, 200 plant species and lots of moths including a few uncommon species. Browse the Surrey Wildlife Trust Wildlife Explorer to find out more about the wildlife that can be seen in Surrey.
---
Accessibility
There is an easy access route that has been upgraded through the woodlands, please see Staffhurst Wood easy circular walk for details.
Some paths become very muddy in winter months and wet weather especially around the pond area. Paths are unsurfaced and may be uneven making them unsuitable for wheelchair users or buggies.
Site management, contact and designations
Site management
We own and manage Staffhurst Wood, including public access, site management and litter bins, car park and visitor services such as walking trails.
---
Contact
Send us any photos you take that you're happy to share on social media, tag @ExploreSurreyUK.
If you need to contact us about any issues at Staffhurst Wood, please use one of the options below:
---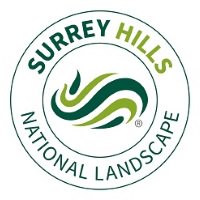 Environmental designations of Staffhurst Wood and what they mean
Area of Great Landscape Value (AGLV) is an area of land in England which is considered to be of high landscape quality with strong distinctive characteristics which make them particularly sensitive to development. The designation was established under the Town and Country Planning Act 1947. Staffhurst Wood is located near the Surrey Hills National Landscape, an Area of Outstanding Natural Beauty (AONB).
Ancient Woodlands are areas of persistent undisturbed woodland that have survived since 1600 in England, they are home to many species of plants, fungi and insects so of great benefit to biodiversity.
Site of Special Scientific Interest (SSSI) is a formal conservation designation. Usually, it describes an area that's of particular interest to science due to the rare species of fauna or flora it contains - or even important geological or physiological features that may lie in its boundaries.
Local Nature Reserves (LNR) are special areas designated by Natural England as being a natural resource contributing to biodiversity. They must be looked after by the local authority in whose area they are located.