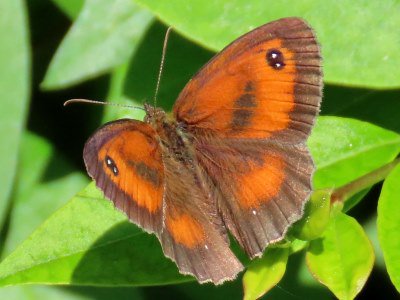 Surrey benefits from having many different landscape habitats which means you can discover a wide range of species of plants and wildlife. We have areas of woodland, heathland, chalk grassland, the Surrey Hills National Landscape - an Area of Outstanding Natural Beauty (AONB) and 3 waterways meandering through the county.
Just by taking a walk across your local common or down that footpath near your house throughout the seasons, you'll find many sights to behold, such as the first snowdrop in mid-winter or the first daffodil as springs starts to arrive and non-native birds start to return.
Surrey has many places to visit where you can experience local wildlife and get up close to the natural environment. We have four national nature reserves, over 40 local nature reserves and many other open spaces (some of which are also designated as nature reserves) managed by a variety of conservation organisations. Many local parks, recreation grounds and green spaces are involved in wildlife projects.
What is a National Nature Reserve?
National Nature Reserves (NNRs) are designated by Natural England to protect the most important areas of wildlife habitat and geological formations in Britain. Surrey benefits from having four National Nature Reserves located at Chobham, Thursley, Ashtead and South London Downs. Thursley and Chobham NNRs have huge areas of open dry heathland, particularly beautiful when the heather is out and where you'll discover a wealth of wildlife. Ashtead Common NNR has areas of grassland and woodland with nearly 1,000 ancient oak trees which are home to many rare insects contributing to biodiversity.
The fourth reserve is located in East Surrey, Coulsdon and Kenley Commons and is known as the South London Downs NNR. It includes beautiful high spots with views towards London from Farthing Downs and Happy Valley. It was declared a third National Nature Reserve for London during 2019.
What is a Local Nature Reserve?
There are 42 Local Nature Reserves (LNRs) dotted around the county, LNRs are the highest designation a local authority or parish council can give to a local green space with wildlife or geological features, in consultation with Natural England and the local community. The local authority then has to accept responsibility for the management of the site so that the features which gave the place its special interest are maintained. This is often in consultation with local community volunteer groups, 'Friends of' groups or organisations like Surrey Wildlife Trust.
You'll find out more about what makes each nature reserve unique by following the links at the bottom of the page.
Where else can I go to spend time in nature?
In addition to all of this, we own more than 6,500 acres of countryside available for your enjoyment, which we call Surrey's Countryside Estate. Much of it is managed on our behalf for conservation by Surrey Wildlife Trust. Add to that land owned by local councils and organisations like the National Trust and you have a total of around 10,000 acres of public open space across the whole county. That equates to around 5,000 football pitches!
So plenty of space to visit, breathe the fresh air and discover something you didn't know existed maybe a stone's throw from your back door.
Wildlife projects in local parks
There are a great many local parks, recreation grounds and green spaces in Surrey that belong to local councils and quite of few of them have 'Friends of local park' groups, small bands of dedicated local people who care for their parks and wildlife in collaboration with the local councils. These voluntary groups have an important part to play in overseeing all matters relating to their local park; they are often the ears and eyes for park rangers, ensuring that any maintenance needs are reported as soon as possible so that they can be dealt with swiftly. The groups also carry out their own projects to enhance our enjoyment of parks and also to support and conserve local wildlife.
---
In this section