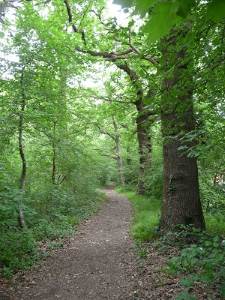 Surrey is England's most wooded county, with woodland covering over a fifth of the county, approximately 24%. A quarter of these are recorded as ancient woodland, areas rich in wildlife that have been part of our landscape for centuries. Surrey's desirability as a place to live, work and visit is closely linked to its pleasant rural environment.
Woodlands are looked after by a variety of organisations such as Surrey Wildlife Trust, the Forestry Commission and the Woodland Trust, as well as many private landowners.
You may know of a small woodland site near you where you can enjoy spring-time's annual treat of a carpet of bluebells in the undisturbed woodland or take a look at the National Trust Surrey Hills list for ideas.
There are woodlands to visit within The Countryside Estate owned by Surrey County Council. They are managed for biodiversity and habitat protection, often in partnership with Surrey Wildlife Trust.
With so much woodland across the county, it's impossible to list all sites, below is a short list of some popular ones. Your local district or borough website should be able to provide information on woods local to you. Or you can enter your postcode on Surrey Wildlife Trust's Great Woodland Walks section to find a woodland walk near you.
Surrey's Tree Strategy and advice
Surrey has an ambitious tree strategy launched in 2019, with the aim of planting 1.2 million new trees by 2030, to help combat climate change. Find out more on the Greener Futures Tree Strategy page.
There are many studies and guidance plans available if you are a woodland owner or want to learn more about managing woodlands. The Forestry Commission also provides useful guidance.
Ash Dieback (Hymenoscyphus fraxineus) has been discovered in Surrey. There is more information on which sites are affected on our Ash Dieback webpage or by visiting Surrey Wildlife Trust's Ash Dieback webpage.
Several organisations listed below provide services that support Surrey woodland and are useful sources of further information.