Quick guide and location map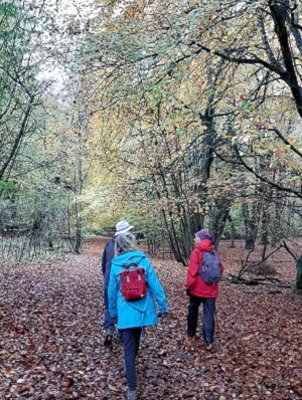 Lovely views throughout the year at this hilly Local Nature Reserve that sits above East and West Horsley in the Surrey Hills National Landscape. Enjoy bluebells in spring, wildflower meadows in summer, autumn colour and panoramic views of London from the viewpoint. Please always follow the Countryside Code.
Quick guide
Address and references: Epsom Road, West Horsley, Leatherhead KT24 6AP
OS map reference: TQ090515
What3Words: town.flying.fakes
Type of site: Local Nature Reserve, woodland
Accessibility: not easily accessible for wheelchairs or buggies, start of the route from St Mary's car park is surfaced.
Facilities: picnic areas, some including benches, three free car parks. No toilets or refreshments.
Nature to discover: butterflies, birds.
Dogs: please keep your dog under control.
Size: 110 hectares (0.42 square miles).
---
Location map
On the map below, use the plus symbol to zoom in to see the locations of the site's paths and car parks and the minus symbol to zoom out to view where the site is situated in Surrey, and to see other countryside sites nearby. The home symbol resets the map to the default setting.
Sheepleas has a number of paths leading around the site, including one from the Shere Road Car Park up to St Mary's Church where there are two car parks. There are two paths off Green Dene Road, one leading to Epsom Road and the other to Shere Road. The other paths intersect and offer a number of different walking routes around the site.
The locations of the three car parks are as follows:
off A246 (by St Mary's Church) KT24 6AP
Shere Road KT24 6EP
Green Dene KT24 5TA.
Site details
Description
Located in the Surrey Hills above East and West Horsley, as its name suggests Sheepleas was historically a public site for the grazing of animals. A mixed site of woodland areas and chalk grassland landscape, with plenty of seasonal colour and many trails to wander.
Note that due to its hills and chalk pathways, the area is not suitable for wheelchairs or buggies. Francis Corner easy access route at Combe Lane, Shere is nearby.
Please take care of our countryside and open spaces by following the Countryside Code.
---
What you can do here
Varied walking trails - some of them hilly and slippery on the chalk surface
Woodland wandering, some ancient woodland and large variety of trees
Dog walking - under effective control
Family adventure and picnics.
Self-guided walks
There are two trails with signposts at Sheepleas, which are currently being upgraded and re-signposted. Follow the colour coded routes on the information boards in each car park and the signposts along the way.
The Horsley Woodland Trail goes through Sheepleas.
---
What you can see here and when
Great views all year round towards London skyline from the Millennium Viewpoint
Spring: carpet of bluebells in the spring, plus violets and primroses.
Summer: Wildflower meadows provide natural summer colour, particularly in July. May and June is the flowering time for 12 species of orchid.
Nature to discover: many species of birds and mammals can be seen here throughout the year and butterflies can be spotted on sunny days in late spring and summer. Mammals may also be seen here including bats (at dusk) and roe deer. Visit Surrey Wildlife Trust website for more information about what you can see at Sheepleas.
Site management, contact and designations
Site management
We own and manage Sheepleas, including public access, site management and litter bins, car park and visitor services including signposted walking trails.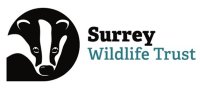 You will find information about how this site is managed for conservation and the wildlife it supports at Surrey Wildlife Trust.
---
Contact
Send us any photos you take that you're happy to share on social media, tag @ExploreSurreyUK
If you need to contact us about any issues at Sheepleas, please use one of the options below:
---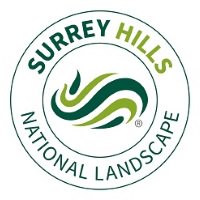 Environmental designations of Sheepleas and what they mean
Surrey Hills National Landscape, an Area of Outstanding Natural Beauty (AONB) covers a quarter of the county of Surrey. The Surrey Hills AONB was created in 1958 for conservation due to its significant landscape value and enjoys levels of protection from development. Find out more about the Surrey Hills.
Ancient Woodlands are areas of persistent undisturbed woodland that have survived since 1600 in England, they are home to many species of plants, fungi and insects so of great benefit to biodiversity.
Local Nature Reserve (LNR) is a special area designated by Natural England as being a natural resource contributing to biodiversity. Local Nature Reserves must be looked after by the local authority in whose area they are located.
Site of Special Scientific Interest (SSSIs) is a formal designation of conservation. Sites must be kept in a healthy state to protect their special habitats and features.
Latest updates
Closures of Green Dene, Shere Road and St Mary's car parks
To ensure public health and safety and to allow Ash dieback tree felling works to take place we will need to close all three car parks at Sheepleas, from Monday 13 November.
Due to large scale machinery and a series of incidents involving some members of the public not adhering to warning signage, a decision has been made to temporarily close all public car parks at this site between Monday and Friday.
Please note, Shere Road car park will be re-opened at weekends for public use.
We apologise for any inconvenience caused during this period. Locations of alternative Surrey Countryside sites can be found on our Visitor Information web pages. Car park locations closest to Sheepleas are Norbury Park and White Down.
---
Ash dieback
Ash dieback (ADB) is considered the most significant disease to affect the United Kingdom's tree population since Dutch Elm disease in the 1960s and 1970s. It is expected to cause the decline and death of over 90% of ash trees in England. Sadly, the disease has advanced considerably due to the extreme climatic conditions we have experienced in the last few years.
Ash trees are the third most common native tree in the UK, found in woodlands and other landscape settings. ADB is caused by a non-native fungus called Hymenoscyphus fraxineus that weakens a tree's structure. Infected trees often see their leaves and branches dying higher up the tree, with the tree becoming weak and unpredictable, often becoming dangerous long before they die.
Ash dieback at Sheepleas
As England's most wooded county, Surrey has a lot of ash trees, which are sadly affected by this disease.
In the interest of public safety, the county council will be undertaking selective felling at Sheepleas during Autumn and Winter 2023. All works are subject to the necessary permissions and licenses being secured.
Take a look at our Ash dieback felling map (PDF) which shows the area where Ash trees will be felled at Sheepleas. The map highlights (in yellow) where Ash dieback has been identified at Sheepleas as well as the works area (in red) where the felling will take place.
Protecting nature at Sheepleas
Residents had previously raised concerns about getting the balance right between protecting the public and protecting nature. As part of the planning process for this year's works, several local experts have been consulted to support in developing an appropriate approach and methodology, including Surrey Bat Group, Surrey Badger Group, Surrey Dormouse Group, Save Surrey's Countryside, Surrey Botanical Society and Butterfly Conservation Surrey amongst others. The Council will continue to liaise with local experts throughout the season in addition to its work with organisations such as Natural England, the Forestry Commission and Surrey Wildlife Trust.
Recognising the guidance provided, the Council's approach will now focus on higher risk areas around public rights of way, car parks and roads. This approach has led to around 2400 metres of permissive path being removed from the felling programme at Sheepleas. Notices to divert the public away from some quieter permissive paths have been installed, to minimise disturbance to biodiversity and encourage areas for wildlife to thrive.
How long will the works last?
Felling is anticipated to start mid-October and likely to continue into December. Further information is available on our Ash Dieback webpage.