Quick guide and location map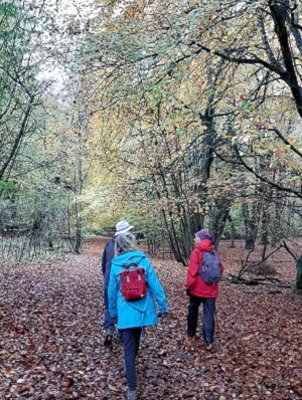 Lovely views throughout the year at this hilly Local Nature Reserve that sits above East and West Horsley in the Surrey Hills National Landscape. Enjoy bluebells in spring, wildflower meadows in summer, autumn colour and panoramic views of London from the viewpoint. Please always follow the Countryside Code.
Quick guide
Address and references: Epsom Road, West Horsley, Leatherhead KT24 6AP
OS map reference: TQ090515
What3Words: town.flying.fakes
Type of site: Local Nature Reserve, woodland
Accessibility: not easily accessible for wheelchairs or buggies, start of the route from St Mary's car park is surfaced.
Facilities: picnic areas, some including benches, three free car parks. No toilets or refreshments.
Nature to discover: butterflies, birds.
Dogs: please keep your dog under control.
Size: 110 hectares (0.42 square miles).
---
Location map
On the map below, use the plus symbol to zoom in to see the locations of the site's paths and car parks and the minus symbol to zoom out to view where the site is situated in Surrey, and to see other countryside sites nearby. The home symbol resets the map to the default setting.
Sheepleas has a number of paths leading around the site, including one from the Shere Road Car Park up to St Mary's Church where there are two car parks. There are two paths off Green Dene Road, one leading to Epsom Road and the other to Shere Road. The other paths intersect and offer a number of different walking routes around the site.
The locations of the three car parks are as follows:
off A246 (by St Mary's Church) KT24 6AP
Shere Road KT24 6EP
Green Dene KT24 5TA.
Site details
Description
Located in the Surrey Hills above East and West Horsley, as its name suggests Sheepleas was historically a public site for the grazing of animals. A mixed site of woodland areas and chalk grassland landscape, with plenty of seasonal colour and many trails to wander.
Note that due to its hills and chalk pathways, the area is not suitable for wheelchairs or buggies. Francis Corner easy access route at Combe Lane, Shere is nearby.
Please take care of our countryside and open spaces by following the Countryside Code.
---
What you can do here
Varied walking trails - some of them hilly and slippery on the chalk surface
Woodland wandering, some ancient woodland and large variety of trees
Dog walking - under effective control
Family adventure and picnics.
Self-guided walks
There are two trails with signposts at Sheepleas, which are currently being upgraded and re-signposted. Follow the colour coded routes on the information boards in each car park and the signposts along the way.
The Horsley Woodland Trail goes through Sheepleas.
---
What you can see here and when
Great views all year round towards London skyline from the Millennium Viewpoint
Spring: carpet of bluebells in the spring, plus violets and primroses.
Summer: Wildflower meadows provide natural summer colour, particularly in July. May and June is the flowering time for 12 species of orchid.
Nature to discover: many species of birds and mammals can be seen here throughout the year and butterflies can be spotted on sunny days in late spring and summer. Mammals may also be seen here including bats (at dusk) and roe deer. Visit Surrey Wildlife Trust website for more information about what you can see at Sheepleas.
Site management, contact and designations
Site management
We own and manage Sheepleas, including public access, site management and litter bins, car park and visitor services including signposted walking trails.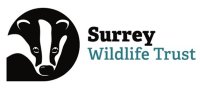 You will find information about how this site is managed for conservation and the wildlife it supports at Surrey Wildlife Trust.
---
Contact
Send us any photos you take that you're happy to share on social media, tag @ExploreSurreyUK
If you need to contact us about any issues at Sheepleas, please use one of the options below:
---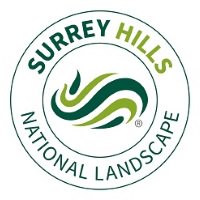 Environmental designations of Sheepleas and what they mean
Surrey Hills National Landscape, an Area of Outstanding Natural Beauty (AONB) covers a quarter of the county of Surrey. The Surrey Hills AONB was created in 1958 for conservation due to its significant landscape value and enjoys levels of protection from development. Find out more about the Surrey Hills.
Ancient Woodlands are areas of persistent undisturbed woodland that have survived since 1600 in England, they are home to many species of plants, fungi and insects so of great benefit to biodiversity.
Local Nature Reserve (LNR) is a special area designated by Natural England as being a natural resource contributing to biodiversity. Local Nature Reserves must be looked after by the local authority in whose area they are located.
Site of Special Scientific Interest (SSSIs) is a formal designation of conservation. Sites must be kept in a healthy state to protect their special habitats and features.
Latest updates
Ash dieback at Sheepleas
Ash Dieback
Ash Dieback (ADB) is considered the most significant disease to affect the United Kingdom's tree population since Dutch Elm Disease in the 1960s and 1970s. It is expected to cause the decline and death of over 90% of ash trees in England. Sadly, the disease has advanced considerably due to the extreme climatic conditions we have experienced in the last few years. ADB begins with leaf loss and crown reduction and eventually causes the tree to die. As the disease takes hold, the tree becomes brittle, unstable and unpredictable, posing a danger to site users.
How we are dealing with Ash Dieback in Surrey
We, Surrey County Council, have a responsibility to manage trees which could pose a safety risk to people or property.
We know how invaluable trees and woodlands are, contributing to the county landscape and bringing numerous benefits to residents and wildlife. We also know how sad it is to see a tree come down and how destructive felling work can appear when it is first carried out, so we only undertake tree felling where it is absolutely necessary.
We are proud that Surrey is England's most wooded county, and we have planted over 380,000 trees over the last three years as part of our commitment to plant 1.2m more trees in the county by 2030.
We have been working closely with, and taking advice from, a number of organisations such as Surrey Wildlife Trust, Forestry Commission, Natural England, Surrey Dormouse Group and Surrey Rural Police.
Ash Dieback works at Sheepleas
The trees at Sheepleas were surveyed by qualified arboriculturists for ADB last summer and thousands of trees were found to be at serious risk of falling and causing harm to visitors. Across our Countryside Estate over 30,000 trees were found to be infected with the disease and posing a risk to safety.
Recognising how valuable Sheepleas is to nature, we commissioned a full ecological survey which was carried out by Surrey Wildlife Trust Ecological Services and a detailed felling licence was obtained from the Forestry Commission. Consent for the works to begin was subsequently provided by Natural England who visited the site a number of times prior to works commencing.
Close consultation with local ecological groups, including a range of species experts on dormice, bats and birds, has also been ongoing throughout. Information such as the location of dormice boxes was received to support the exclusion of certain areas from works.
Following these consultations, a range of mitigation measures were put in place and contractors were recruited based on their experience of working in sensitive areas.
Works commenced in late January, with a qualified ecologist overseeing works and providing direction to contractors on site. Officers became concerned about affecting hibernating dormice after they were notified about an unmapped dormouse box being found amongst felled woodland. Advice from Surrey Wildlife Trust Ecology Services was immediately sought on this unforeseen issue, and the Council referred itself to Surrey's Rural Police team.
All relevant documentation has been supplied to Surrey Rural Police and we are participating fully in their investigation. We have integrated recommendations from Surrey Dormouse Group's report on the incident. We continue to take advice from Natural England on the need for any further licences and measures to mitigate and limit any impact on nature, and the most appropriate way for work to recommence to secure the safety of visitors.
Natural England has confirmed the Council was acting in accordance with the consent provided by them but following consultation with Surrey Wildlife Trust and local ecological groups, the proposed methodology for recording site-based decisions has been updated. The new methodology will be critiqued by all interested parties at a workshop in April.
Recovery work at Sheepleas after felling
We are aware Surrey residents will notice the changes in landscape that ADB management will bring about and that they will want to see us manage the risks, but also ensure that we do all we can to repair the loss as soon as possible. This is a challenging time for the Council in dealing with this issue as well as many other land-owning organisations and private individuals.
We are endeavouring to proactively manage the issue of the declining ash population and the associated tree risk management, health and safety issues and potential reputational risks this brings, whilst also focusing on recovery. The recovery phase will include assessing genetic ash tree tolerances within the population, retaining them where possible, restocking with suitable alternative species that provide similar ecological benefits where appropriate, or identify alternatives which improve the biodiversity of each area.
At Sheepleas, we acknowledge that the extent of tree removal will have an impact upon the biodiversity of the site.
We are in the process of preparing an Ecology Mitigation and Enhancement Plan (EMMP). If you would like to be part of our discussions on the methodology statement or design and delivery of the EMMP please contact treefelling@surreycc.gov.uk