Quick guide and location map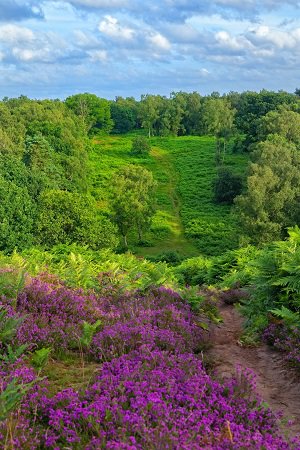 Much to see all year round at this extensive common, near the Hog's Back, with abundant wildlife and colourful carpets of heather in late summer. Please always follow the Countryside Code.
Quick guide
Address and references: Suffield Lane, Puttenham GU3 1BG
OS grid reference: SU915465
What3Words: obligated.brambles.mooring
Type of site: woodland, grassland, heathland
Accessibility: not suitable for wheelchairs or buggies.
Facilities: four free car parks, many benches and picnic areas, no toilets or refreshments onsite.
Nature to discover: birds, butterflies, reptiles, dragonflies and roe deer.
Dogs: please keep your dog under control.
Size: 113.8 hectares (281 acres).
---
Location map
On the map below, use the plus symbol to zoom in to see the locations of the site's paths and car parks and the minus symbol to zoom out to view where the site is situated in Surrey, and to see other countryside sites nearby. The home symbol resets the map to the default setting.
Puttenham Common has many footpaths, including those that lead from the three car parks around the site. The locations of the car parks are as follows:
Top and Middle car parks are on Suffield Lane, GU10 1JJ
Britty Wood and Puttenham Tarn car parks are on Littleworth Road, GU10 1JH.
Site details
Description
Large areas of heathland, grassland, woodland and large ponds combine to provide 235 hectares of public open space that is Puttenham Common.
So much wildlife, flora, fauna and pond life to discover as well as wide expansive views towards Farnham in the west, Elstead and the undisturbed areas of military-owned land to the south and east towards Compton and on to Guildford.
Please take care of our countryside and open spaces by following the Countryside Code.
---
What you can do here
Explore get-away-from-it-all wide open spaces
Fairly flat walking trails on sandy surfaces
Enjoy dog walking - under effective control
Visit historic archaeological interest - Highbury Hill fort remains probably dating back to the Iron Age
The North Downs Way national trail runs through the estate.
Self-guided walks
We are installing new signposting and checking routes on Puttenham Common. Here are some existing routes to enjoy:
---
What you can see here and when
Wonderful displays of heather from late summer
The glorious gold of autumn
Remnants of military training areas from WWII
Several large ponds for wildlife watching
Nature to discover: an abundance of birds have been recorded at this site throughout the year and butterflies can be spotted on sunny days in late spring and summer. You may also see pond life and roe deer. Browse the Surrey Wildlife Trust Wildlife Explorer to find out more about the wildlife that can be seen in Surrey.
---
Accessibility
Not suitable for wheelchair users on undulating surfaces and sandy tracks
Some buggies could access the tracks to benches and picnic areas
Royal Common easy access trail near Elstead village.
Site management, contact and designations
Site management
We manage Puttenham Common on behalf of the Hampton Estate who own the land. We look after public access including general site management and litter bins, car parks and visitor services including waymarked walking trails.
---
Contact
Send us any photos you take that you're happy to share on social media, tag @ExploreSurreyUK
If you need to contact us about any issues on Puttenham Common, please use one of the options below:
---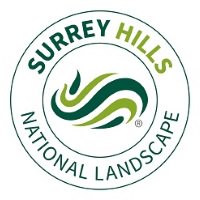 Environmental designations of Puttenham Common and what they mean
Surrey Hills National Landscape, an Area of Outstanding Natural Beauty (AONB) covers a quarter of the county of Surrey. The Surrey Hills AONB was created in 1958 for conservation due to its significant landscape value and enjoys levels of protection from development. Find out more about the Surrey Hills.
Scheduled Ancient Monument is an historic site or building that is included in the national government Schedule of Monuments.
Site of Special Scientific Interest (SSSI) is a formal designation of conservation. Sites must be kept in a healthy state to protect their special habitats and features.