Quick guide and location map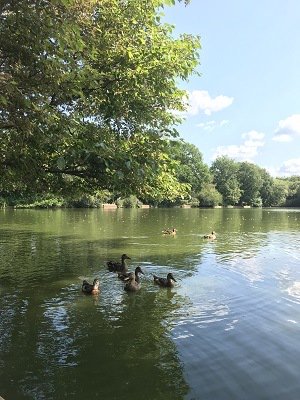 These nine commons around Worplesdon, near Guildford offer lovely walks, pretty wildflower meadows and heathland, as well as Britten's Pond that attracts lots of wildlife. Please always follow the Countryside Code.
Quick guide
Address and references: Saltbox Road, Guildford GU3 3LH
OS map reference: SU982529
What3Words: racing.overnight.shaky
Type of site: Local Nature Reserve, heathland and woodland
Accessibility: accessible boardwalk around Britten's Pond
Facilities: picnic areas with some benches, three free car parks
Nature to discover: birds, dragonflies, butterflies and deer
Dogs: please keep your dog under control
Size: 183 hectares (452 acres)
---
Location map
On the map below, use the plus symbol to zoom in to see the locations of the site's paths and car parks and the minus symbol to zoom out to view where the site is situated in Surrey, and to see other countryside sites nearby. The home symbol resets the map to the default setting.
The nine commons have three car parks, two of them, Saltbox Road and Britten's Pond, are on Saltbox Road, GU3 3LH and there is also the Burdenshott Road car park near the Jolly Farmer pub, GU3 3RN.
Site details
Description
The Worplesdon Group of Commons is made up of nine commons within the parish of Worplesdon near Guildford, some of them are inter-linking. They are:
Whitmoor and Rickford Commons (Saltbox Road car park)
Gooserye Common (near Saltbox Road car park)
Stringers Common including Britten's Pond (Britten's Pond car park off Saltbox Road)
Chitty's Common, Stoughton
Rydes Hill, Stoughton
Broad Street, Wood Street village
Clasford Common, Wood Street village
Littlefield Common, Worplesdon
These commons provide valuable green space on the north side of Guildford's urban centre where you'll find heathland, woodland and various ponds to get away from it all. They were originally grazing lands for commoners, with the ponds created for grazing stock to drink from, they are now an abundant haven for wildlife and wildflower meadows. Pay a visit to these commons at any time of year and you'll always find something natural to experience.
Access to Britten's Pond is from Salt Box Road where there is a level flat trail around the pond with many benches and a wheelchair-accessible viewing platform. Guildford Angling Society have fishing rights on Britten's Pond, helping to keep the ponds in good condition for wildlife.
Please take care of our countryside and open spaces, particularly heathland areas where fire risk is a constant threat, and follow the Countryside Code.
---
What you can do here
Discover pond life
Access the natural environment
Get away from it all
Varied walking self-guided trails
Outdoor education
Family natural play and picnics
Dog walking - under effective control
Self-guided walks
There are two walking routes, one from Burdenshott Road car park and the other from Salt Box Road car park. We are updating the signposts on these routes. Follow the colour coded routes on the information boards in each car park and the signposts along the way.
There are two routes available from AllTrails.com :
---
What you can see here and when
Spring: bright yellow celandines along the banks of the stream.
Late summer and autumn: heathland flowers.
Nature to discover: many species of bird spotted around the pond, plus emperor dragonflies, butterflies, including silver-studded blue in summer and mammals such as bats and roe deer. For more information about the wildlife to look out for visit the following Surrey Wildlife Trust pages:
Accessibility
There is a path and viewing platform around Britten's Pond that is accessible for wheelchairs or buggies although it can be muddy after heavy rainfall, find out more Britten's Pond easy access trail.
---
Car park location
There are three car parks, two of them on Saltbox Road, GU3 3LH and there is also Burdenshott Road car park near the Jolly Farmer pub, GU3 3RN.
Site management, contact and designations
Site management
We own the Worplesdon Group of Commons and we manage them for public access, including site management and litter bins, car park and visitor services including signposted walking trails.
You will find information about how these sites are managed for conservation and grazing of cattle on the following Surrey Wildlife Trust webpages for:
---
Contact us
Send us any photos you take that you're happy to share on social media, tag @ExploreSurreyUK
If you need to contact us about any issues on Worplesdon commons, please use one of the options below:
---
Environmental designations of Worplesdon commons and what they mean
Local Nature Reserve (LNR) is a special area designated by Natural England as being a natural resource contributing to biodiversity. They must be looked after by the local authority in whose area they are located.
Site of Special Scientific Interest (SSSI) is a formal designation of conservation. Sites must be kept in a healthy state to protect their special habitats and features.
Special Protection Areas (SPA) are protected areas for birds in the UK. Whitmoor Common is part of the Thames Basin Heaths SPA heathland areas within the Thames Valley.
Latest updates
Ash dieback on Worplesdon commons
Ash trees are the third most common native tree in the UK, found in woodlands and other landscape settings. Ash dieback is caused by a non-native fungus called Hymenoscyphus fraxineus that weakens a tree's structure. Infected trees often see their leaves and branches dying higher up the tree, with the tree becoming weak and unpredictable, often becoming dangerous long before they die.
As England's most wooded county, Surrey has a lot of ash trees, which are sadly affected by this disease. In the interest of public safety, the county council carried out selective felling at Worplesdon Commons during February 2023. Ash trees will be retained with their disease progression monitored where safe to do so.
Further information is available on our Ash Dieback web page
Files available to download
Approved licences and permissions are available to view on the Ash Dieback felling licences web page.