Courses led by SAL tutor Cedric Day at the Camberley Centre
SAL Camberley Centre was buzzing with activity on a sunny Tuesday with a range of inspiring courses on offer, bringing our adult learning community together.
Life drawing courses here are led by tutor Cedric Day who brings a wealth of knowledge and artistic flair to art courses run by SAL. During his teaching career, he has influenced many learners to discover their own talents. Learners have progressed on to other courses and even taken their art further by completing University degrees in fine art, exhibiting their work to the public, and accepting commissions. Above all learners are enthused and reach their potential by attending courses with SAL.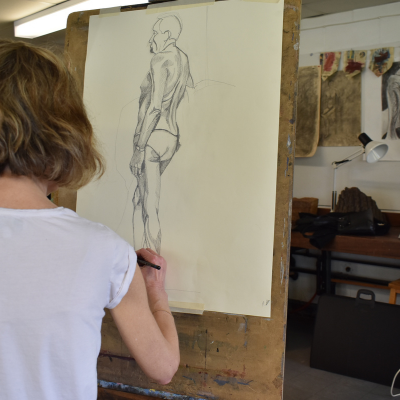 In the life drawing classes Cedric helps each individual learner gain fluency and fluidity in depicting the human form. The life drawing classes involve working with a live model using a range of media including pen, pencil, charcoal, and chalk pastels.
The life drawing class in Camberley brings together a group of learners with varying experience and a complete beginner feels as welcome in the group as a practising artist. There is a common interest in a shared passion, and the group are happy to meet, learn together and from one another to build and refine techniques. Learners value attending a life drawing class with a professional model. The courses set a routine to follow and an event to look forward to.
The group took a break in the café and shared how much they are enjoying the experience. Classes are informal, informative, and enjoyable, offering a unique opportunity to explore creativity.
Learner Diane has been attending courses with SAL for over 10 years, an Open Day inspired her to sign up to a course and she never looked back! She originally studied art and she needed to build up her portfolio. Learners Yugi and Pernille decided to join the Life Drawing class together, as part of their progression on from other courses with SAL. They looked online specifically for an art class with a live model. It is great to see friendships grow as the courses get people together.
Autumn term 2023 promises to be exciting and action packed. SAL is open for enrolments, so why not try out something new with Surrey Adult Learning, the possibilities are endless. Enrol on a life drawing course today!