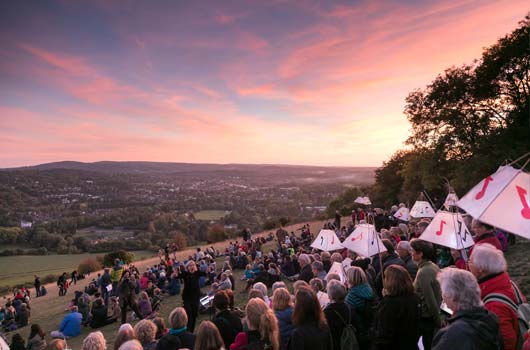 Just So Singers held a workshop with artist Diana Burch on Wednesday 6 July from 3.45pm to 5pm at Philip Southcote School, Addlestone.
They worked (and sang!) alongside other students who were invited from Surrey Arts' inclusive online singing group 'Together at Home', local school St George's and parents and siblings to create some of the 'Seeds of Hope' for the Surrey Hills Harvest celebration they attended in September.
Many thanks to Susan Dinmore from Surrey Arts Wardrobe and Christina Pavia for supporting the workshop.
A bit more about the event in September:
Saturday 17 September 6.30pm at Box Hill, Surrey
Harvest is an annual event celebrating the outstanding Surrey Hills landscape from the top of the iconic Box Hill. Taking place at dusk on Saturday 17 September, the community were invited to come together for a creative picnic with singing, percussion, poetry, and a striking art installation. The installation was created by hundreds of local people creating 'Seeds of Hope' guided by artist Diana Burch and represented our connection with each other and nature.
This unique event aimed to reflect the cultural diversity of our communities in an area of outstanding natural beauty which we all share and benefit from. Musical director Anna Tabbush created a special song for the event for all to join in alongside choirs from around the county.
Learn more at: Surrey Hills Arts - Harvest 2022