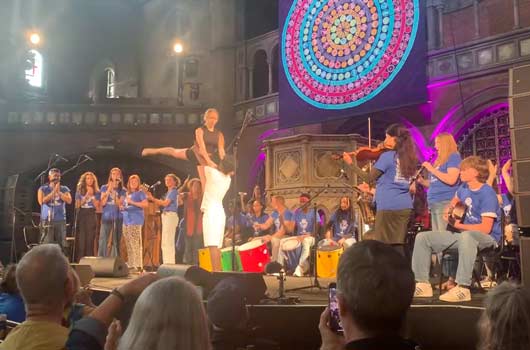 On Sunday 26 June, Music Connects performed their new music at London's iconic Union Chapel in London. A diverse team of professional musicians from Surrey Arts supported Music Connects participants to create the song for this unique performance.
Music Connects brings together young people raised in Surrey and displaced teenagers and young people from host of communities to share life stories, make new music and build friendships and understanding.
The project is delivered by Surrey Arts and Big Leaf Foundation with funding from the National Foundation for Youth Music. The song called 'I Will Find My Way' captures a shared sense of journey, hope and perseverance experienced by amazing young people who have had very different life journeys.
Jim Pinchen from Surrey Arts said, 'The performance showed how Music Connects uses music to explore all the things that make us unique alongside celebrating all that we have in common. We're so proud of our young people, who were utterly incredible, but we know that this life transforming opportunity wouldn't have happened without the invitation from Together Productions, hard work and trust in us to deliver.'
Holly Jones from Together Productions said 'Music Connects gave a fantastic performance. It was a highlight of the evening for so many people, who loved the enthusiasm, energy and talent that the young people brought in spades.'
Find out more about Big Leaf Foundation and their projects to help young, displaced people belong and grow"
Big Leaf Foundation - Music Connects in Herefordshire
Notes:
Surrey Arts' aim is to increase people's interest and participation in the arts throughout Surrey. In partnership with other organisations, they offer support, tuition, and advice to people of all ages and abilities.
Big Leaf Foundation is a small charity working with displaced young people aged 16 to 25 living in Surrey. Their aim is to provide a nurturing programme of activities, projects and events that focus on combating social isolation and improving wellbeing for the young people they support.
Together Productions brings together people who may never otherwise meet to connect, collaborate and create. They use music and the arts as a catalyst to break down barriers, reduce isolation and enhance well-being. They produce high quality artistic work that is grown through creative collaboration, participation and experimentation.
Facebook: @togetherproductionscreate
Instagram: togetherproductionscreate
Twitter: @together_create