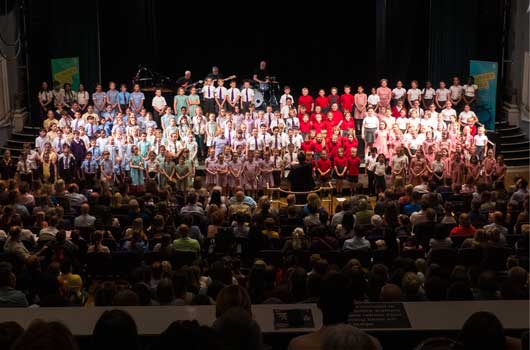 The Surrey Arts Primary Music Festivals have been an annual highlight in Surrey for over 25 years, and this year included over 2,400 children from across 80 Surrey Primary Schools.
This year's festivals were held at both Dorking Halls and Princes Hall, Aldershot across a total of 9 performances from March to June 2022. The festivals were a fantastic opportunity for children to experience singing with hundreds of their peers and we would like to thank Dorking Halls and Princes Hall for their support are also extremely grateful to all the schools for taking part and helping to make this year's concerts possible.
We thank Teresa Jennings and Plank Road Publishing Inc for their support and the generous licencing agreement offered to Surrey Arts regarding the use of any scores, recordings and other learning resources provided for the musical revue of "My Planet, Your Planet", as featured during this year's festival.
Watch the rehearsal video here (recorded at Dorking Halls and featuring schools from Surrey Borders as well as comments from Mark Nuti - County Councillor; Sarah Lee - Head of Service, Surrey Arts; Cole Bendall - Festival Conductor and Nancy Gillio-Cole - Vocal Strategy Manager, Surrey Arts)