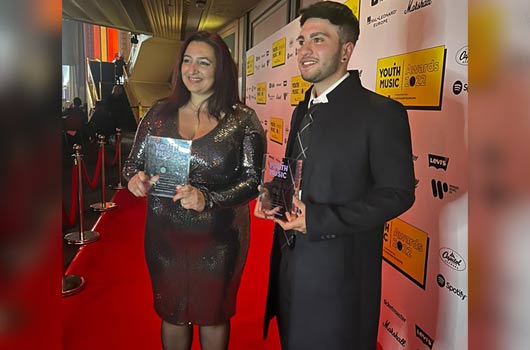 Surrey Arts inclusion music teacher Raghad Haddad has won the Inspirational Music Leader Award at the Youth Music Awards 2022. Raghad received her award on 19 October in Troxy London in recognition of her work for Surrey Arts as a diverse leader of refugee background, supporting vulnerable children in Surrey.
Raghad Haddad is a viola player from Yabroud, a small town in the mountains north of Damascus. Since being granted asylum in the UK in 2018 she has performed at numerous charity events in London and Brighton and recently performed with Damon Albarn, The Liverpool Philharmonic Orchestra and The Orchestra of Syrian Musicians.
On behalf of Surrey Arts Raghad has worked on multiple projects supporting vulnerable children including SEND and refugee children and has been the executive producer of a major international music project involving the United Nations and 120 participants from around the world.
After finding out she was had won the award, Raghad said "I was speechless when they announced my name as the winner of the Inspirational Music Leader at the Youth Music Award 2022 this week! It's such an honour to have received this award and I'm so grateful to my colleagues at Surrey Arts for the support they have given me since I arrived in the UK from Syria. Thank you for giving me the opportunity, not only to rebuild my own life but also the privilege to help others affected by war, poverty, climate change and discrimination. Sadly, the need to support displaced communities is not getting smaller and I look forward to supporting more of your transformational projects in the months and years ahead."
Kavyan Hajirostami also won the Young Leader Award for their work with Big Leaf. Big Leaf support Unaccompanied Asylum Seeking Children (UASC) across Surrey and work closely with Surrey Arts on a range of music and arts projects.
Inclusion Manager Jim Pinchen said "I first met Raghad when she arrived in the UK from Syria 5 years ago and Kavyan through the I Speak Music Orchestra in 2019 shortly after his arrival from Iran. Between them they have used their musical expertise, language and generosity to support hundreds of our most vulnerable children. This recognition on a national stage is well deserved". Surrey Arts Head of Service, Sarah Lee said "Surrey Arts is delighted to have played a part in supporting the development of these astounding music leaders. We would like to thank Youth Music for their continued support and for our most recent funding application success which will allow us to develop more project to support displaced communities and professional across the county"