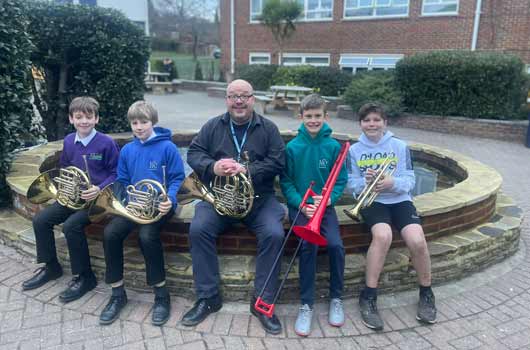 It's been a great year for four Surrey Arts' students who are members of the Mid Surrey Wind Band. Lucian, Duncan, Ryan and have all been accepted into the National Children's Orchestra (NCO).
NCO is made up of young musicians aged 8 to 14, who come together in three National Symphony Orchestras for residential orchestral activity and in four regional Projects ensembles for non-residential orchestral weekends.
Their tutor Ian Stott said 'I'm so pleased to see so many brass students making such amazing progress in the Dorking area.
These students have been learning for between 2 and 3 years. I am very proud, as their teacher, of their progress into the National Children's Orchestra, especially as it is rare for state sector students to get to this level.
To have 4 from the same town is wonderful! All 4 have learnt through Surrey Arts.'
These successes are a testament to our tutors who dedicate their time to improve the skills of students and enable them to follow their musical ambitions.