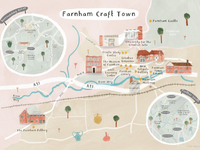 October in Farnham means Craft Month. An annual month-long celebration of the crafts that are embedded into the fabric and cultural life of Farnham.
In 2020, it was announced that the World Crafts Council has designated Farnham as a World Craft City – the first in England – in recognition of the town's commitment to, appreciation for, and celebration of craft.
With the World Craft Town status, the town is building the connection between Farnham and craft all year round. From exhibitions to festivals and hands-on workshops, talks and children's
programming, support for new makers, craft commissions and creating new studio spaces everyone can experience, be part of and learn more about Farnham's rich craft heritage.
Now in its eighth year, Craft Month promises a packed programme of over 50 events delivered by exceptional local makers and providers of craft. Visit award-winning galleries or try your hand at a new creative activity at our Farnham Adult Learning Centre.
Enrol today on one of our workshops running throughout October and do something for you in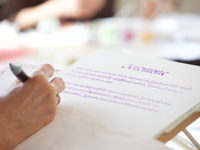 2022. And if you still aren't sure, take a look at what our learners have to say who are already learning with us.
Farnham Saturday craft workshops
If you would like to find out more about the Farnham Craft Month, please visit their website for more information.