Roger Hutchins is an experienced professional illustrator, with an extensive portfolio, who has worked on a wide range commissioned artworks and illustrations that have featured in many publications and museum exhibitions both here in the UK, and internationally. He is one of our art tutors at Surrey Adult Learning, where he brings a wealth of talent and technical expertise to our courses. Roger currently teaches watercolour and oil painting at the Esher, Sunbury and Molesey centres.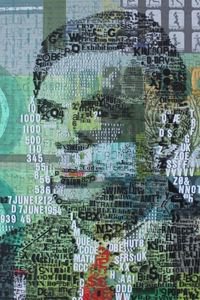 Recently Roger, met the Mayor of Richmond, Councillor Julia Cambridge, and Petina from the Asgill House Trust, as he was the winner of the first Asgill House Trust art competition, which involved painting the house in Richmond on location. The competition was fund raising for the Mayor's nominated charity Ruils (a user-led charity supporting disabled children & adults to live independent lives.) Roger worked in watercolour for his picture, which will be displayed in the Mayor's Parlour at York House in Twickenham until May 2023.
Roger also won an art competition held by Hounslow Council during the summer entitled Politics in Art with a collaged portrait of Alan Turing OBE. This was exhibited at Meadowbank, the Hounslow Adult and Community Education centre in Cranford.
Congratulations from the SAL community Roger.
Here at Surrey Adult Learning our tutors are at the heart of what we do. We are proud to deliver courses that are taught by qualified professionals who are enthusiastic about their subject area.
Our courses are designed with you in mind, and we encourage our learners to reach their goals, bringing people together, whether via distance learning online, or in one of our seven centres in Surrey. There is a social element to attending our courses and learners join a community where everyone is welcome to come along, share ideas and make friends in a relaxed environment.
We offer a range of part-time, evening, weekend or workshop art courses which are taught by successful artists who ensure that you get the best out of your learning experience at SAL, including getting the skills, knowledge, and confidence that you need to progress!
Start your new year 2023 doing something for you! Why not enrol on a creative adventure with Surrey Adult Learning.
Spring Term courses are open for enrolment but filling up fast! Head on to the website and book your place today.