Making period products available to those that need them
Menstrual Health Day on 28 May marked two years since Surrey County Council proudly launched a ground-breaking initiative with charity Binti International, to provide free period products in selected locations across Surrey and be the first county council in the UK to start eradicating period stigma.
To celebrate our 2 year anniversary and Menstrual Health Day on 28 May 2023, we have given our period donation boxes and collection trays a face lift! So keep an eye out for our shiny new boxes in a library near you.
Free period products have never been more important than now due to the cost-of-living crisis. We have estimated that the service has been used more than 20,000 times over the past year alone.
Keep on reading to find out how you can get involved in Period Dignty.
Where can I collect free period products?
You can collect free period products in 40 Libraries across Surrey as well as in some Surrey County Council offices. See the table and list below for the exact locations.
Each building will have one donation box and collection trays in toilets, as well as posters signposting you to where you can find free period products. Please take what you need, you don't need to ask.
If you are unsure where to find the free period products, ask our Period Dignity Champions for help. The champions are dedicated members of staff whose role it is to restock the collection trays and help you with any questions you might have.
Libraries
You can also find the full postal address for your preferred library location below:
Our offices
There will also be donation boxes and collection trays available in Surrey County Council buildings at:
A Binti app is also available to download so residents can find the nearest location where free period products are available to collect and where you can donate. The app is available to download on the Apple app store for IOS users or the Google Play store for Android users.
How can I donate products?
Anyone can donate tampons and pads to the donation boxes – the more donations the better! All you have to do is go to your local participating library and put your donation in the donation box.
When donating, please be aware that we only accept individually wrapped period products.
Look out for the Period Dignity displays in libraries like the ones in Guildford Library and Weybridge library as shown below.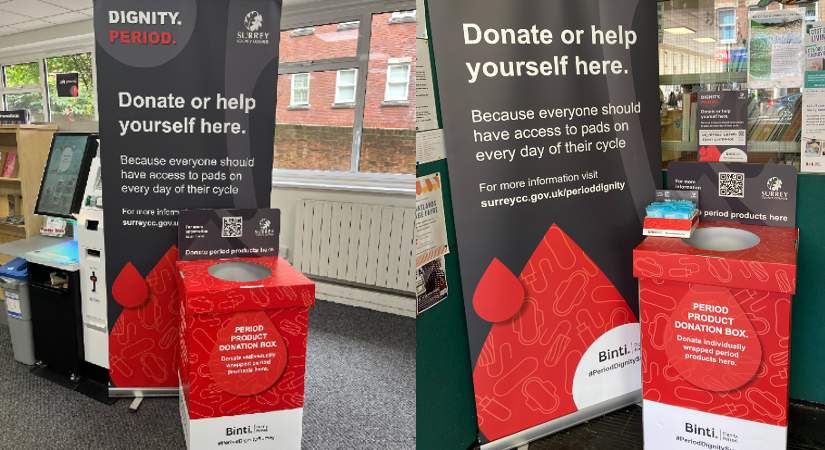 How can my organisation or business help with Period Dignity at work?
If your organisation or business would like to get involved, email the hello@binti.co.uk or visit the Binti website. You will be sent an information pack that explains more about the initiative and will outline how you can get started.
For more information, visit the Binti website.