Quick guide and location map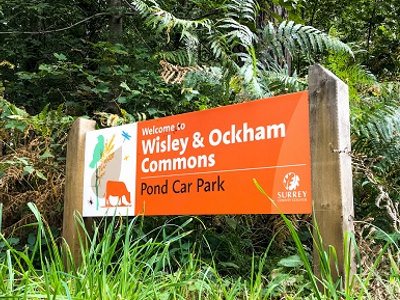 Discover these delightful commons near RHS Wisley where you can enjoy heathland colour whilst exploring historic sites and the diversity of nature. Please always follow the Countryside Code.
Quick guide
Address and references:

Wisley site: Wren's Nest car park, Wisley Lane, Wisley GU23 6QA
What3Words: trader.unless.foil
Ockham site: Boldermere car park, Hatch Lane, Ockham KT11 1NR
What3Words: strain.random.galaxy
OS map reference for Ockham site: TQ080590

Type of site: Local Nature Reserve, heathland
Accessibility: accessible toilets at Boldermere car park where there is a café, but most paths unsuitable for wheelchairs, buggies or people with limited mobility.
Facilities: cafe open 8am to 4pm, toilets, picnic benches, Visitor Centre, three free car parks.
Nature to discover: birds, dragonflies, butterflies and minibeasts.
Dogs: please keep your dog under control.
Size: 297 hectares (733 acres).
---
Location map
On the map below, use the plus symbol to zoom in to see the locations of the site's facilities, including the café, toilets and car parks. Zoom out using the minus symbol to view where the site is situated in Surrey, and to find other countryside sites nearby. The home symbol resets the map to the default setting.
Wisley and Ockham Commons are split by the A3. There is a café and toilets located at Ockham Common, in the Boldermere car park that is off of the A3. The What3Words reference for the café and toilets is active.nail.rested. There are two car parks at Ockham Common and one at Wisley Common as follows:
Ockham Common:
Boldermere car park postcode KT11 1NR
Pond car park postcode: KT11 1NR
Wisley Common:
Wren's Nest car park postcode: GU23 6QA
Site details
Description
These commons cover 800 acres of predominantly heathland situated on either side of junction 10, joining the M25 motorway to the A3. There is a footbridge over the A3 that connects the two commons. Situated near to the famous RHS Wisley Gardens, the commons are a beautiful landscape and open space to get away from it all. Chatley Heath forms part of the commons.
As well as beautiful natural habitats such as Bolder Mere Lake and the wildlife that visits, there are also some interesting man-made features. Built in 1822, the historic Semaphore tower sits at Chatley Heath on the south-east side of Ockham common. Hidden in the woodland close to this is the Samuelson Mausoleum, built in 1919 by Sir Henry Samuelson to be a 'Temple of sleep' for his family. We acquired the building and surrounding land in 1992.
Please take care of our countryside and open spaces, particularly areas of heathland where fire risk is high and follow the Countryside Code.
---
What you can do here
Take long walks using the footbridge joining Wisley and Ockham commons
Enjoy dog walking - under effective control
Bird and nature-watching
Discover historic sites
Discover Bolder Mere Lake on Ockham Common
Family strolls on sandy paths and picnics
Self-guided walks
There are trails with signposts on the commons that are being updated. Follow the colour coded routes on the information board and the signposts along the way. Here are some other walking options:
---
What you can see here and when
Abundant heather on the heathland from late summer.
Nature to discover: dragonflies and damselflies recorded in summer. Many species of bird found at both sites throughout the year and some mammals, including roe deer. Browse the Surrey Wildlife Trust Wildlife Explorer to find out more about the wildlife that can be seen in Surrey.
---
Facilities
Three free car parks
Ockham Bites café open 8am to 4pm with picnic benches outside at Boldermere car park
Visitor centre open 8am to 4pm with tables inside at Boldermere car park
Toilet facilities open 8am to 4pm at Boldermere car park.
Accessible toilets open 8am to 4pm at Boldermere car park, outside of these hours operated by RADAR key
Picnic benches and level grassy area at the foot of the Semaphore Tower.
Site management, contact and designations
Site management
October 2022 -find out about the junction improvement works taking place on the A3/M25 Wisley interchange. Car park closures information is in the latest updates section.
We own Wisley and Ockham Commons and manage them for public access, site management and litter bins, car parks and the visitor centre next door to Ockham Bites café.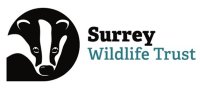 You will find information about how this site is managed for conservation, including the grazing of cattle and the wildlife to look out for at Surrey Wildlife Trust.
---
Contact
Send us any photos you take that you're happy to share on social media, tag @ExploreSurreyUK.
If you need to contact us about any issues on Wisley or Ockham commons, please use one of the options below:
---
Environmental designations of Wisley and Ockham commons and what they mean
Site of Special Scientific Interest (SSSI) is a formal conservation designation. Usually, it describes an area that's of particular interest to science due to the rare species of fauna or flora found onsite.
Wisley and Ockham Commons are part of the Thames Basin Heaths Special Protection Area (SPA). This is a designation under the European Directive relating to the conservation of wild birds.
Local Nature Reserves (LNR) is a special area designated by Natural England as being a natural resource contributing to biodiversity. They must be looked after by the local authority in whose area they are located.
Latest updates
National Highways works are currently underway at Junction10 of the M25 to help reduce congestion, create a smoother flow of traffic and provide safer journeys.
The scheme will see:
New and safer routes for cyclists, pedestrians and horse-riders
An additional lane on the A3 in both directions from Ockham and Painshill junctions towards the M25
A larger roundabout with extra lanes to increase capacity
Free flow left turns at all four corners of the junction
Improvements to the A245 Seven Hills junction and Painshill roundabout
Safer access to Old Lane, Elm Lane, Heyswood campsite and San Domenico
Improvements to the local environment and wildlife
Further information is available on the National Highways website