Quick guide and location map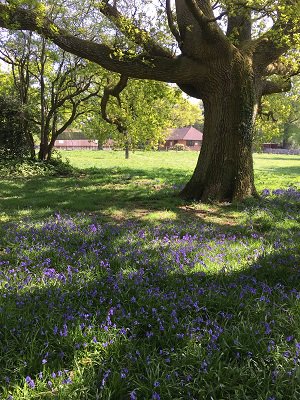 In the heart of the Surrey Hills National Landscape, near Guildford, this beauty spot has something for everyone all year round. Please always follow the Countryside Code.
Quick guide
Address and references: Albury Downs, Guildford, Surrey GU4 8SE
What3Words: just.renew.assure
Location grid reference: TQ044493
Type of site: ancient woodland, chalk downland and views
Accessibility: easy access trail, accessible benches and accessible toilets
Facilities: toilets, cafe and Discovery Centre open 9am to 4pm (weather dependent), water fountain
Nature to discover: birds, reptiles, butterflies. Bluebells in spring
Dogs: please keep your dog under control
Size: 103 hectares (250 acres)
---
Location map
On the map below, use the plus symbol to zoom in to see the locations of the site's facilities, including the café, toilets and car parks. Zoom out using the minus symbol to view where the site is situated in Surrey, and to find other countryside sites nearby. The home symbol resets the map to the default setting.
The Newlands Corner site stretches from White Lane across the Albury Downs and has two cafés with toilets, one near the Discovery Centre and viewpoint, with the What3Words reference: dared.brief.acute, and the other café on the opposite side of the Shere Road, with the What3Words reference: game.tells.cared. There are many footpaths, including from the two free car parks:
Albury Downs main car park, GU4 8SE
White Lane car park, GU5 9BQ.
Site details
Description
This Surrey flagship site has been a well-known and much-loved space for public use for many years situated above Chilworth and Albury villages outside Guildford. It is right in the heart of the Surrey Hills National Landscape, an Area of Outstanding Natural Beauty (AONB) with many viewpoints and benches, facilities, large areas of woodland, some of them ancient, and chalk downland on the lower grassy slopes.
Please take care of our countryside and open spaces by following the Countryside Code.
---
What you can do here
Varied walking and cycling trails
Easy Access trail
Wildlife watching in our Wildlife Garden
Multiple viewpoints across the site
New woodland natural playtrail
Enjoy large areas of open space
Dog walking - under effective control
Family adventure and picnics
Long distance walks to Silent Pool to the east and St Martha's Hill and Norman church to the west
Learn more about Surrey's countryside in the Discovery Centre
Self-guided walking routes
There are two trails with signposts to guide you at Newlands Corner, and they are known as the Deer trail and the Dormouse trail.
Most of the Dormouse trail is wheelchair/buggy accessible, but not the section that goes to the viewpoint. Follow the colour coded routes on the information boards in each car park and the signposts along the way.
Silent Pool and St Martha's self-guided trail starts nearby and goes through Newlands Corner. This is the same route as the Deer trail which starts at Newlands Corner.
---
What you can see here and when
At any time of year enjoy multiple viewpoints all around Newlands Corner with picnic benches and seats
Great views to the Tillingbourne Valley and beyond to the Greensand Ridge and the South Downs
Bluebells in spring and glorious autumn colours
Unspoilt areas of woodland, some of it designated as ancient woodland
North Downs Way National Trail runs right through Newlands
Nature to discover: an abundance of birds and some mammals can be seen throughout the year. Spend some time at the Wildlife Garden which is always alive with wildlife. Butterflies can also be spotted on sunny days in late spring and throughout the summer. Browse the Surrey Wildlife Trust Wildlife Explorer to find out more about the wildlife that can be seen in Surrey
---
Accessibility
Accessible parking spaces in car park
Accessible picnic benches
Accessible toilet facilities opened with a RADAR key
Easy access trail with benches, approximately 700m in length. This is the first part of the Dormouse trail which starts behind the toilet block
There are many public footpaths and bridleways available, but some of them are steep and sometimes slippery on the chalk surface
---
Facilities
Large free car park (no parking allowed overnight)
Café with a serving hatch offers food, drinks and ice cream, open 9am to 4pm (weather dependent)
Water fountain located near the Wildlife Garden
Toilets are open during the café's opening hours, from 9am to 4pm, but the disabled toilet is available outside of these hours with a RADAR key
Many picnic benches around the Discovery Centre and there are memorial seats located at the many viewpoints
Natural play trail in the woodland behind the Discovery Centre
The Discovery Centre provides inter-active information on Surrey's countryside with videos, graphic walls and website access. This is open when the cafe is open
Permanent Orienteering course run by Guildford Orienteers
Bus route 25 from Guildford every 90-120 minutes approximately
Plucky Pheasant café is opposite the entrance
Site management, contact and designations
Site management
We manage Newlands Corner on behalf of the Albury Estate who own the land. We look after public access including the Discovery Centre, general site management and litter bins, large car park and visitor services including waymarked walking trails. Find out about Improvements to Newlands Corner.
---
Contact
Take a photo where you see the media point and share with us on our social media channels @ExploreSurreyUK.
If you need to contact us about any issues at Newlands Corner, please use one of the options below:
---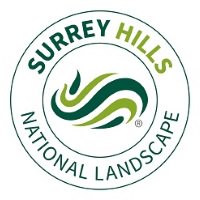 Environmental designations of Newlands Corner and what they mean
Surrey Hills National Landscape, an Area of Outstanding Natural Beauty (AONB) covers a quarter of the county of Surrey. The Surrey Hills AONB was created in 1958 for conservation due to its significant landscape value and enjoys levels of protection from development. Find out more about the Surrey Hills.
Ancient Woodlands are areas of persistent undisturbed woodland that have survived since 1600 in England, they are home to many species of plants, fungi and insects so of great benefit to biodiversity.