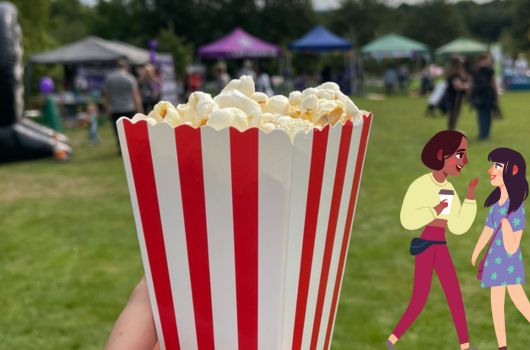 We organised our first Surrey Youth Voice Summer Party - what a fantastic day we had!
We took over Woodhatch Place in style with fun filled activities including arts and crafts, photobooths, smoothie bikes, food vans, archery, football, popcorn, candyfloss, giant mascots, climbing walls, tombola, DJ and animals – so many animals!
Cabinet Member for Children and Families, Sinead Mooney, opened the party welcoming everyone and thanking all stall holders and volunteers who kindly supported the event.
Fiaa Hamilton, one of our Surrey Care Leavers, who has recently been signed by TikTok, sang three fantastic songs, one of which was a brand new single that Fiaa debuted at the party. It felt very special.
A huge thank you to all our stall holders: Active Surrey, Fostering Recruitment Team, Mindworks & Amplify, Surrey Fire and Rescue, Twister, CYP Haven, Action for Carers, Surrey Choices, Surrey Library Service, Community Investment and Engagement, WISE, Sexual Health Team, Surrey Virtual School, Trading Standards Prevention Team, Surrey Coalition and Catch22.
We are also very grateful for our activity hosts; SOLD with archery and a scarily high climbing wall, Adam Lake spinning on the DJ decks, Jackie Shields' fabulous facepainting, Ballsportz Inflatables for football darts, Monster Foods for incredible burgers and ice-cream, and last but not least First Choice Animals with the most gorgeous – and well behaved – animals.
A special shout out to all those who kindly gave their time and volunteered:
Joshua Buxton, Grace Mumford, Maisie Mullis, Sameer Hussain, Gina Munday, Eleanor Fountain, Renee Coleman Douglas, Holly Kirtley, Helen Smith, Emma Storer, Jane Gammans, Nyki Curtis, Jan Hopkinson, Caroline Pane, Adolphus Marshall, Mia Combe, Piera Venturoli, Georgina Waterfield, Claire Stoker, Benjamin Sammon, Sophie Arnold, Julie Eade, Megan Redwin, Jammie Wheadon, Georgia Blanchard, Ross Walker, Sabrina Peters, Adam Lake, Rachael Lake and Daniel Lee-Grabowski. And our wonderful Woodhatch facilities and grounds team were fantastic. We couldn't have done it without you – thank you!
A big thank you to Charlotte Robertson and Sameer Hussain in the User Voice and Participation Team for organising the event.
Finally, a huge thank you to you for joining us - we hope you had the best time!
As always if you would like to share what you thought of the Summer Party, you can fill our Surrey Youth Voice Feedback Form!
Now to plan our end of year event!