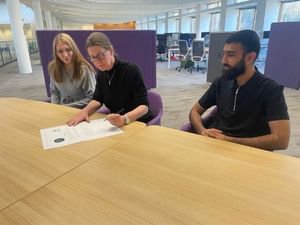 On 31 March 2023 Surrey County Council signed the Care Leaver Covenant.
In Surrey the Care Leaver Covenant Lead Ambassadors are Rachael Wardell, Director of Children's Services, Grace Mumford, a care-experienced apprentice, Sameer Hussain, also a care-experienced apprentice, and Sinead Mooney, Lead Cabinet Member for Children and Families.
In signing the Care Leaver Covenant, care leavers have helped the council agree a set of priorities that will be put into action over a 12 month period. The council understands its role as part of a universal family in which care-experienced young people can benefit from support in making a successful transition to adulthood.
Care-experienced ambassadors have this to say about Surrey signing up the Care Leaver Covenant:
"It's good that people higher up in Surrey are noticing there are things that need improving, it's really good that the Care Leaver Covenant is being recognised by senior management in Surrey", Grace (19).
"It's great that Surrey are signing up to the Care Leaver Covenant, it will provide care leavers with more benefits and opportunities", Sameer (24).
What is the Care Leaver Covenant?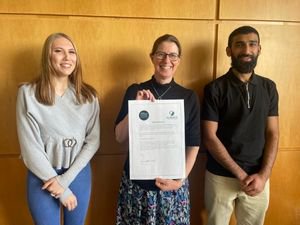 The Care Leaver Covenant (CLC) is a national inclusion programme that supports care leavers aged 16 to 25 to live independently. The scheme is funded by the Department for Education (DfE) and it encourages local authorities (that's us), voluntary organisations and private sector businesses to sign up and make pledges to support care leavers in England.
Check out the national Care Leaver Covenant website for information on over 2000 opportunities for care leavers. Below are examples of the types of offers available:
Discounts on bills and furniture
Jobs, training programmes and apprenticeships
Coaching and mentoring
Opening a bank account (made easier for care leavers)
Mental health and counselling support
To get regular updates on offers near you, sign up to the Connects App. You can sign up via the Care Leaver Covenant care leavers opportunities webpage or speak to your Personal Advisor (PA).
How did we develop our Care Leaver Covenant Priorities and what are they?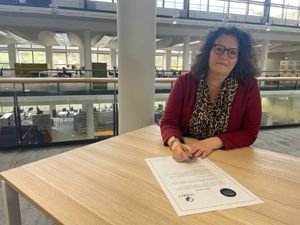 In 2022 we consulted with a large number of care leavers and developed a Wish List (list of ideas and suggestions from young people on what would make a difference to them as Surrey care leavers).
Working with the leaving care team, partners from across the council and young people, we then agreed a broad Care Leaver Covenant action-plan.
Our action-plan has several areas:
Raising awareness of the Care Leaver Covenant
Increasing education, employment and training opportunities and support
Creating more opportunities for care leavers through Social Value
Developing more discounts to help care leavers financially
Having a Whole Local Authority approach and promoting Corporate Parenting Board responsibilities
Better health and wellbeing support and provision
Examples of commitments we have made under our Care Leaver Covenant action-plan
Every care leaver should leave care with an up to date CV
Surrey Heartlands (NHS) to recruit and employ up to 25 care leavers
Offer FREE prescriptions for care leavers with medical problems
Recruit high profile Ambassadors to promote corporate parenting responsibilities
Work with Surrey Adult Learning and The Academy to create a targeted learning offer
Lobby for care leavers to receive discounted travel until their 25th birthday
Establish an 'Out of County' gym membership scheme
Altogether we have a whopping 24 different actions across the six Care Leaver Covenant areas. For more information about our Care Leaver Covenant priorities contact: corporateparentingboard@surreycc.gov.uk
How will progress against the Care Leaver Covenant priorities be checked and shared?
The Corporate Parenting Board are sponsors of the Care Leaver Covenant, along with Tina Benjamin, Director of Corporate Parenting and Siobhan Walsh, Assistant Director responsible for care leavers.
Every four months we will check the progress that services and teams are making with implementing their commitments. Our care experienced Ambassadors (Grace and Sameer) will join these meetings to hear first-hand what progress has or has not been made and what help may be needed.
Remember for each 'different area' we have ambassadors. Our ambassador for area 5 (having a whole local authority approach and promoting corporate parenting responsibilities') is Joanna Killian, the Chief Executive of Surrey County Council.
All of our ambassadors will receive progress reports every three months. In addition, updates will be shared with members of the Corporate Parenting Board and Care Leaver Covenant sponsors.
We will share updates on social media, via the Surrey Youth Voice channels and also on these web pages. You can expect to see progress updates here in:
July 2023
October 2023
January 2024
April 2024
If you are a local business, a resident, a councillor, an officer, or one of our amazing care leavers and you would like to get involved in the Care Leaver Covenant, then we want to hear from you. For more information about the CLC contact racheal.ireton@surreycc.gov.uk or corporateparentingboard@surreycc.gov.uk
Council Tax discounts and exemptions
Surrey care leavers have been entitled to a Council Tax exemption or discount since April 2020, therefore we did not include this in our Care Leaver Covenant priorities.
Care leavers living in Surrey are entitled to a 100% Council Tax exemption and those living outside of Surrey are entitled to a 75% discount. In 2023 we reviewed the Council Tax policy which now includes all Surrey care leavers, open and closed to the service up to their 25th birthday. For more information speak to your Personal Advisor, if you no longer have a PA then contact: duty.deskleavingcare@surreycc.gov.uk
---
Prepaid Prescription update
As part of our Care Leaver Covenant priorities, we agreed to develop a Prepaid Prescription scheme for care leavers with ongoing medical conditions who are not already eligible for free prescriptions. With thanks to our colleagues in Health and Children's Services, we are delighted to launch the scheme.
From April 2023 eligible care leavers with ongoing medical conditions can apply to the scheme. Check below to see if you could be eligible to receive a free 12-month Prepaid Prescription certificate. The scheme is offered to all care leavers (living in and out of the county). If you think you meet the criteria below then speak to your Personal Advisor:
You must be registered with a GP
Be a Surrey care leaver
Aged between 18 to 25 years old
Require repeat prescriptions for ongoing medication
Not already exempt from prescription charges (you are on an apprenticeship or working and you earn more than £15,276 per year)
For more information on how to apply, speak with your Personal Advisor.