About the walk
A 3.5 mile (5 kilometre) circular walk from Puttenham Common through woodland at the foot of the Hog's Back ridge and walking through Puttenham village and part of the North Downs Way.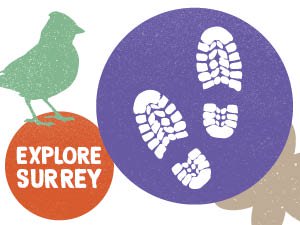 Route details
Please note: This walk follows public footpaths and bridleways which cross private and public land. Please respect people's privacy, keep dogs under control and remember the Countryside Code.
Start and end address: Puttenham Common top car park, GU3 1BG
Difficulty: moderate terrain
Distance: 3.5 miles (5 km)
Type of walk: circular walk with some slopes
Approximate time: 1.5 hours
Accessibility: several stiles, gates and steps, several climbs and descents
OS Map Explorer 145: Guildford and Farnham.
Description
Puttenham village has some of the last remaining hop gardens in Surrey. Oast houses were built here in the nineteenth century to dry hops before they were transported to breweries in Guildford and London. In 1223, the manor of Puttenham (now known as Puttenham Priory) was divided between two sisters, one of whom gave her half to the Augustinian Priory of Newark near Ripley.
How to get there
By car: Puttenham Common Top Car Park on Suffield Lane. Leave village heading south-west along Suffield Lane, top car park on right, opposite Top Rodsall Cottage. Please note: 1.95 metres entrance height barrier.
By bus: Route 65 stops on A31 at Puttenham Hill. From here, you can walk down to Puttenham village and Suffield Lane and start the walk from this point.
Facilities
Toilets: The Good Intent pub in Puttenham village about half-way round
Refreshments: The Good Intent pub.
Walk directions
The numbers of each stage of the walk correspond with the points shown on the map.
Stages of the route
Start to Puttenham Lane
It is worth taking time before you start walking to enjoy views from car park. There is an extensive view south to the sandy heights of Hindhead and Blackdown. Leave car park via vehicle entrance back to Suffield Lane. Cross over with care and go ahead past Top Rodsall Cottage on left. Follow path as it turns left behind the cottage and continue down some steps to a T-junction with sunken track. Turn left and almost immediately right along footpath through woodland edge. At junction of paths, continue in same direction on path marked with a yellow arrow. Follow this path with an open field to left. At edge of the woodland, pass through kissing gate ahead and continue on grass track between open fields (dog owners please note: game birds reared here). At the end of grass track, cross low stile ahead to join narrow fenced path. Path leads you alongside a second (disused) stile and then swings left to reach road (Puttenham Lane) via a third stile or gate.
Stage 1: Puttenham Lane to Suffield Lane
Turn left along road (caution - traffic) for 150 metres to turn left at a kissing gate and follow path along left-hand boundary of field. The path swings left, right and left again to reach a stile at top of the rise. Pass alongside this (with fence still on left) then walk diagonally right across the field to a stile between oak trees. Cross this stile and walk diagonally left across this next field. Beyond brow of rise, follow path straight ahead (with views to Puttenham Priory) to cross stile into woodland. Follow fenced path along edge of woodland belt. Beyond trees, cross next stile ahead, then follow fenced path with a large pond visible through hedge on left. Path leads you out via a stile to village road, Suffield Lane.
Stage 2: Suffield Lane to T junction
To your right you will see entrance gates for Puttenham Priory. Cross over and turn right along road edge (caution - traffic) to reach T-junction. Cross over to the Good Intent pub.
Stage 3: T junction to Lascombe Lane
At the pub, turn left along The Street. Soon you will need to swap to left-hand pavement. Ignore first footpath signed off to left, keep ahead and soon you will need to swap back to right-hand pavement. Where road swings right, fork left onto Lascombe Lane.
Stage 4: Lascombe Lane to lower Lascombe
You are now on the North Downs Way (NDW). This National Trail crosses the northern edge of Puttenham Common before continuing on through Puttenham village. At fork, leave NDW and take left-hand branch onto Highfield Lane (heading uphill). Follow the lane passing horse paddocks on left. From this point there is an excellent view beyond paddocks (back to your left) of the Palladian mansion Puttenham Priory. Continue up to top of hill where you will find the property, Lower Lascombe, on left.
Stage 5: Lower Lascombe to kissing gate
Ignore footpath signed right here, simply keep ahead on lane for 160m to a point where it bears right. Fork diagonally left here to join signed footpath across crop field. Cross stile and continue in same direction across next field (caution - cattle). Cross next stile, go over tarmac drive and keep ahead to join fenced footpath passing red brick and tile property on left. The path leads you through a section of woodland, managed by The Woodland Trust. You will come to a kissing gate ahead.
Stage 6: Kissing gate to end of walk
Go through kissing gate and turn left along sandy track. Keep straight ahead at crossroads of paths to pass cottage on left. Path climbs to pass an impressive square brick property, Murtmoor, also on left. Keep ahead along main track, ignoring any small paths into Puttenham Common on right. Eventually you will see a smaller path forking right which leads you past a row of small wooden posts and to the Top car park where your walk began.
Map
Map shows the start at Puttenham Common Top car park, heading towards Lydling Farm and Suffield Lane. It then goes through Puttenham village, joins the North Downs Way for a short distance, then towards Lascombe Lane and along the western edge of Puttenham Common back to the car park. Select the map of the route below to open a larger version in a new window, that can be printed, if necessary, using your browser print tool with landscape selected. Alternatively, you can save the image to your mobile device, for reference on your walk.