A 5 mile (8 kilometre) circular walk from Ranmore Common, through part of the National Trust's Polesden Lacey estate and linking to the North Downs Way. Beautiful views to London, the Mole Gap and South Downs on a good day.
About the walk
Please note: This walk follows public footpaths and bridleways which cross private and public land. Please respect people's privacy, keep dogs under control and remember the Countryside Code.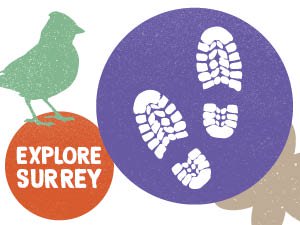 Route details
Start and end address: Denbies Hillside car park, RH5 6SR (charges apply for non-NT members)
Difficulty: no stiles, 2 gates, several steady climbs, challenging terrain
Distance: 5 miles (8 km)
Type of walk: a circular walk with some slopes
Approximate time: 2.5 hours
OS Map Explorer 146: Dorking, Box Hill and Reigate
Description
Many famous people have been associated with Polesden Lacey and its estate. The playwright and politician Richard Brinsley Sheridan bought the estate in 1797. The current Polesden Lacey house was designed by Thomas Cubitt as a Grecian villa built in 1824. A well-known member of Edwardian Society, Mrs Ronald Greville lived there in the early 1900s and when she died in 1942 she bequeathed the estate to the National Trust (NT).
How to get there
By car: Denbies Hillside NT pay and display car park on Ranmore Common, RH5 6SR. Free for NT members
By bus: Route 533 stops at Church bus stop on Ranmore Common Road
Facilities
Toilets: NT Polesden Lacey
Refreshments: NT Polesden Lacey
Walk directions
The numbers of each stage of the walk correspond with the points shown on the map.
Stages of the route
---
Start to Tanners Hatch Youth Hostel
From Denbies Hillside car park, cross over Ranmore Common Road and turn left along wide grass verge. You will pass red Charlotte Cottage to left and Fox Cottages on right. Immediately after Fox Cottages, turn right alongside a vehicle barrier onto track into the woodland signed Youth Hostel. Ignore the first path forking immediately left, simply stay on track alongside cottage on right. In 40 metres at the fork, take the left branch signed again for Youth Hostel. Follow woodland path going steadily downhill for just over 1 kilometre. Eventually, the track swings right to pass Tanners Hatch Youth Hostel on the left.
Stage 1: Tanners Hatch to valley bottom
Tanners Hatch is an old estate cottage that was restored and renovated by members of the Youth Hostels Association during World War 2. Across the valley, the long wall of Sheridan's Walk in the Polesden estate can be glimpsed through the trees. Continue to follow track down to bottom of the valley, ignoring a signed path through gate to left.
Stage 2: Valley bottom to Stone Bridge
Stay on the main track as it swings left heading uphill between lines of coppiced hedgerows. (Turn right here on bridleway to Bagden Farm if you want to connect with the Ranmore circular walk). After 100 metres, take the left fork signed to Connicut Lane and the path leads you under an ornamental stone bridge. This bridge is known as the Italian Bridge and bears the inscription CED 1903.
Stage 3: Stone Bridge to Polesden Road
Beyond the bridge continue on main track still climbing (can be very muddy). Some way along view opens up back across fields on the right towards the Mole Gap. The Mole Gap was created by the River Mole cutting into the North Downs escarpment. After about 1.2 kilometres you will reach a T-junction with Polesden Road.
Stage 4: Polesden Road to Polesden Lacey entrance drive
Cross over road with care, go through hedge gap opposite and then turn immediately left to take the footpath running parallel with the road on left. At the end of right-hand grass verge, you will reach the entrance drive for Polesden Lacey on left. At this point, you can take a detour to visit the house and gardens (payable to non-NT members) To do so, turn left down drive.
Stage 5: Polesden entrance to Thatched Bridge
To continue the walk, ignore fork for entrance drive, simply keep ahead on the track signed to several cottages and farms. After 140 metres, at a signed junction of paths, stay on main track which swings left heading steadily uphill. Stay on the track to pass Home Farm House and then continue downhill to join a road which leads you under the Thatched Bridge.
Stage 6: Thatched Bridge to crossroads
Pass under the second bridge and where tarmac track turns left, keep ahead along a track lined with yew trees (signed public bridleway). After 300 metres, you will come to staggered T-junction. Turn right heading uphill on the tarmac track until you reach Yew Tree Farm on left. A few paces after, keep left at fork. Keep left again at second fork, staying on the main track. Further along on left, you will find a small rest area with a bench, with lovely views back towards Polesden Lacey House. Some way further up the hill, you will come to a short signpost with blue and yellow arrows marking a crossroads of paths.
Stage 7: Crossroads to North Downs Way
Keep straight ahead on main track and then ignore next path signed left. About 50 metres later, take the righthand fork to join bridleway marked with a blue arrow (not NT arrow). Keep straight ahead across a stone vehicle track and continue along a bridleway through woods for 450 metres to reach junction with Ranmore Common Road. Cross road with care and go along track opposite (signed Ranmore Campsite). Pass scout campsite on left and continue downhill for 100 metres to reach a signed junction, turn left here to join North Downs Way.
Stage 8: North Downs Way to end of walk at Denbies Hillside
Keep ahead on this path, passing through wooden staggered barrier, along the edge of Ranmore Common woodland. After 700 metres at staggered crossroads, go ahead through a kissing gate into Steer's Field. Take the left-hand of two paths ahead heading for Ranmore Common's St Barnabas Church spire, note view of Westcott to right and Dorking ahead. Follow the path as it swings left and walk through the gate to reach Denbies Hillside car park where the walk began.
Go further
You could extend this North Downs Way walk further to link up with the Ranmore circular walk. You'll then be walking about 11 miles! Join at point 2 of this walk, detailed above.
Map
The map shows the route that starts at Denbies car park, goes through Ranmore Common and passes Tanners Hatch youth hostel before going through woodland and passing farmland up to the Polesden Road, then through Polesden Lacey, under the Thatched Bridge to the crossroads. The walk then joins the North Downs Way along the edge of Ranmore Common, before heading back to Denbies car park.