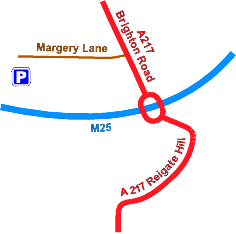 Car park owned by the National Trust. Access from Margery Lane car park via footbridge over M25. Magnificent views from the top of Reigate Hill and Colley Hill from well surfaced and reasonably level paths. The slope from the car park is a lengthy but gradual incline. Refreshments and accessible toilet facilities at nearby Wray Lane parking area.
Colley Hill is managed by the National Trust. "The Inglis Folly" was donated to the Borough by Lieutenant Colonel Inglis in 1909. It was originally a drinking fountain but now houses a direction indicator. Suitable for anyone in an electric wheelchair or scooter and for people with sensory impairments with lots of light and colour in the valley below.
toilets/accessible at Wray Lane car park
well surfaced path
viewpoint
refreshments at Wray Lane
parking/blue badge at Wray Lane
slope
parking (non allocated)
grassland
trees/woods
More information on this walk can be found in the downloadable leaflet below.
For alternative walks in this area take a look at the North Downs Way National Trail website (please note that the walks contained on this external website are promoted by The North Downs National Trail Office rather than by the County Council).
---
Files available to download