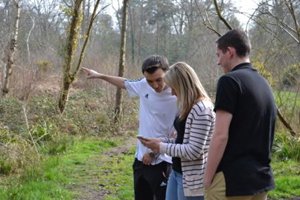 Explore Surrey has teamed up with AllTrails.com to bring you the Explore Surrey Collection - the best Surrey walks to download and follow on your phone.
From riverside strolls to countryside rambles, our library of walking guides is for everyone to enjoy – be it alone, with your dog or with family and friends.
Using a walking app brings together the best of both worlds, old and new. Our walking guides include all the best features of traditional guide books with turn-by-turn directions, lovely photography and rich information about the history and the environment. Each walk is offered as a downloadable pdf.
Our walking guides also provide all the benefits of modern technology. Download the walks to the iPhone or Android App and you can follow your real-time progress around the live satellite route map, add your own comments and ratings and even create your own walking routes to share.