Quick guide and location map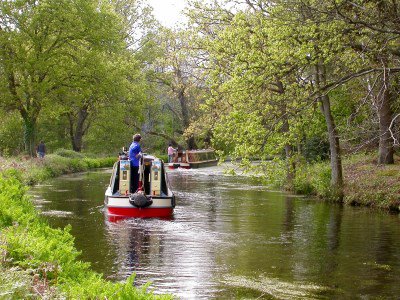 Enjoy lovely views along this pretty canal that starts near New Haw in Surrey, where it flows into the River Thames and, in the other direction, continues for 51.4 kilometres (32 miles) up to the collapsed tunnel in Odiham in Hampshire. You can choose to walk any section of the canal of a distance that suits you or you can cycle or explore by boat. Watch for the varied wildlife, have fun in canoes or kayaks or on pedalos, or buy a fishing permit and savour the peace and quiet as you fish. Please always follow the Countryside Code and if you are a paddler, boater or angler take a look at the Paddlers Code.
Quick guide
Address and references: Basingstoke Canal Centre, Mytchett Place Road, Mytchett Surrey GU16 6DD
What3Words: finger.from.equal
OS map reference: SU893549
Type of site: canal
Accessibility: accessible toilets in the car park, towpath is wheelchair and buggy accessible except for in wet weather and accessible boat trips available as well.
Facilities: Visitor Centre at Mytchett, café and toilets. Free car park.
Nature to discover: fish, amphibians, dragonflies, kingfishers and other birds, butterflies and much more.
Dogs: please keep your dog under control.
Size: 51.4 kilometres long (32 miles).
---
Location map
On the map below, use the plus symbol to zoom in to see the locations of the site's facilities, including the café, toilets and car parks. Zoom out using the minus symbol to view where the site is situated in Surrey, and to find other countryside sites nearby. The home symbol resets the map to the default setting.
The Basingstoke Canal has a Visitor Centre with a café, located at What3Words reference: common.traded.tops, and the toilets at What3Words reference: nuns.vocab.codes. It also has a canal path on the opposite bank to the Visitor Centre and a footpath leading along from the car park into the woods. The car park is at Mytchett Place Road, Mytchett Surrey GU16 6DD.
Site details
Description
The Basingstoke Canal opened in 1794 and was the first canal to be built in England for the transportation of agricultural goods. Its purpose was to carry farm produce and other local products between south east England and London as cheaply as possible. It closed in 1932 and was purchased in the mid-1970s by both ourselves, Surrey County Council, and Hampshire County Council to save it from becoming derelict.
Nowadays, the canal is enjoyed by millions of visitors for a number of different activities, including walking, cycling, fishing, boating and camping to name a few.
The Basingstoke Canal has a number of pubs and train stations along the current 32 miles that are open, so you can plan a long walk or a shorter stroll to suit your preferences. Whatever stretch of the canal you chose to explore, you will enjoy beautiful and peaceful surroundings with much to discover including the abundant wildlife. Different parts of the canal hold their own surprises such as the series of locks in the Surrey part of the canal, the lakes and ponds near Mytchett or the rolling fields and picturesque cottages near Odiham.
The Share the Space message promotes courtesy and better sharing of the towpath space by all who use it, with the basic message being pedestrians have priority and cyclists must give way to other users. This is particularly relevant through Woking town centre section, which sees heavily shared use of the towpath as part of the Planet Network Saturn Trail cycling initiative.
---
What you can do here
Take scenic walks of any length from a gentle stroll to a long hike along the canal
Explore many rural stretches of the canal where you can find peace and tranquillity by the water
Cycle, walk or embark on an adventure by visiting the Canal Visitor Centre to hire an unpowered boat such as a canoe, sit on top kayaks, row boats and pedalos. Cyclists, please give way to walkers on the towpath
Camp out at the Canal Centre campsite
Children's large grass play area
Watch the abundant wildlife
Dog walking
---
What you can see here and when
Beautiful countryside
Scenic waterway views
Spring bluebells along the towpath at Mytchett
Summer wildflowers
Autumn colour
Winter frosty scenes
Nature to discover: fish, amphibians, dragonflies, families of ducks or, if you're lucky, you may spot the blue flash of a kingfisher, butterflies, insects and much more.
---
Accessibility
There is a large car park with wheelchair access and toilets at the Canal Visitor Centre in Mytchett. There are also other car parks along the canal, but these have more of an uneven terrain
The towpath varies in width between approx. 1 metre to 2 metres wide and can be muddy during the wetter seasons, particularly in the more rural, Hampshire half of the canal. The Surrey half of the canal is a hard sealed surface path for most of its length, suitable for wheelchair use
There is also Accessible Boating based at Colt Hill Wharf in Odiham. This is a charity managed by volunteers who offer day trips and longer holiday cruises on two specially-equipped boats
Multiple train stations along its length. Find out more on the canal centre website.
---
Facilities
Canal Visitor Centre in Mytchett with large free of charge car park and toilet facilities. Also includes campsite, play area and unpowered boat hire, such as canoes, sit on top kayaks and pedalos
Take a trip on the canal from different locations. The 'John Pinkerton' trip boat operates from Colt Hill in Odiham, the 'Rosebud' trip boat operates from the Mytchett canal centre and you'll find 'Kitty' the trip boat in Woking town centre wharf
The Canal café is based at the canal centre in Mytchett serving a range of hot and cold food and a range of drinks
Walking and cycling routes off the towpath, there is a Rambles on the Basingstoke Canal guide sold at the Canal Visitor Centre in Mytchett, or online. There is also Frimley Lodge Park just down the towpath in Frimley Green, GU16 6HY. They have three main car park areas which are free of charge
Attractive angling locations – to fish on the canal you will need a permit. Please note there is a closed fishing season on the canal from 15 March to 15 June
A series of guidebooks about the canal are available to buy online, or from the Canal Visitor Centre.
Site management, contact and designations
Site management
Basingstoke Canal is managed by the Basingstoke Canal Authority (BCA), that was set up in 1992 to manage the canal on behalf of Surrey and Hampshire County Councils.
The BCA has no legal or corporate identity itself and its staff are employed by Hampshire County Council and are governed by their policies.
The Canal Partnership consists of the two County Councils and six local, borough and district Councils (Hart, Rushmoor, Guildford, Surrey Heath, Woking and Runnymede). They fund and supervise the BCA through the Basingstoke Canal Joint Management Committee.
Contact
Send us any photos you take that you're happy to share on social media, tag @ExploreSurreyUK
If you need to contact us about any issues on the Basingstoke Canal:
---
Environmental designations of the Basingstoke Canal and what they mean
The canal is a Site of Special Scientific Interest (SSSI) for its water-based vegetation and its dragonfly and damselfly populations.
---
Latest News
Lock Cottage – Expressions of interest for commercial relationship
An exciting opportunity is available for a tenant to breathe new life into a former lock keeper's cottage and gardens on the Basingstoke Canal as part of a commercial relationship.
We are inviting expressions of interest from organisations who would like to hear more about the opportunity to develop and operate a new leisure / hospitality / food and beverage-based business at 'Lock Cottage', on the Basingstoke Canal.
Nestled in the leafy location of Frimley Top Lock, Lock Cottage enjoys a unique waterfront setting. We are looking to work with a partner who can take an innovative approach to achieving the cottage's potential and make the most of the unique surroundings to host a business that positively contributes to the local area.
Further details are available in the Expression of interest document (PDF).
To find out more about this opportunity, including the potential to attend an open day and ask any questions, please email enquiries@ruralsolutions.co.uk to express your interest by Friday 28 April 2023.