Below are our main policies, please read them carefully before enrolling onto an Adult Learning course. Please contact us if you wish to find out about our other policies and procedures.
Refunds and cancellations
See our policy on refunds and cancelled courses.
Funding statement
Most of our courses are subsidised either wholly or in part by the Education and Skills Funding Agency (ESFA) and the European Social Fund (ESF). These organisations require us to collect information about our learners to monitor how their funding is being spent and to gauge the effectiveness of our equality and diversity policy.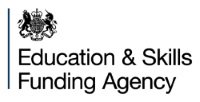 ---
In this section