Working in residential homes
Our vision is to provide outstanding services and be an employer of choice with highly trained, passionate and dedicated staff.
Could you be part of the team that helps us deliver this vision?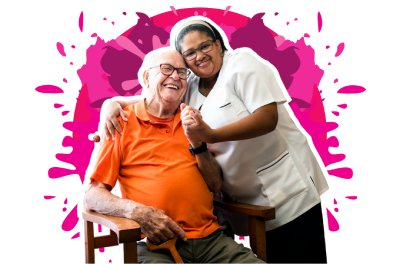 We have a range of roles which are based in a number of settings and services throughout Surrey. These include:
Our Supported Living Service - supporting adults of all ages with Learning Disabilities to live full and active lives in their own homes.
Our residential homes - providing 24 hour personalised support service for individuals with learning disabilities and older people.
We work closely with our partners to ensure we provide the best quality service to people using these services and their carers. Our focus is on improving standards in a consistent way, delivering value for money and ensuring that our services provide personalised support and maximise independence.
Everyday is different in our residential homes - come and join us!
We take pride in ensuring that we deliver excellent services to our residential homes meaning that not only are our residents safe, but they are empowered to be both happy and independent.
We put ourselves in the shoes of our residents and their families and understand their needs first and foremost. We have a successful buddy system that matches our resident's interests and hobbies with those of our care assistants. This allows a friendly and positive atmosphere where our residents feel closely connected with our assistants within a safe and open environment.
Whilst personal care is indeed an important responsibility of our care assistant roles, the role offers so much more than that. You could be spending your day writing up reports on resident's health and progress, working with families to develop support plans or even joining us on a daytrip to the seaside.
We put our resident's front and centre of everything we do and if you share a passion for helping others and genuinely seeing how you can impact a resident's life for the better then we would welcome your application to our roles. We are recruiting for a number of roles including care and support vacancies, management and administration.
Supported Living Service
The Supported Living Service offers support throughout the county for adults with learning disabilities over the age of eighteen with a variety of support needs. We provide a high quality choice of flexible community based support services which focus on promoting people's independence and enablement at home. This support includes help with personal care and practical support, ranging from washing, eating and drinking and administering medication, to shopping, cooking and access to community activities. We are Care Quality Commission (CQC) regulated and inspected. We continually work to measure quality and improve our service standards.
The Supported Living Service is delivered from hubs in Guildford, Cobham and Banstead.
We offer support in a range of settings to suit individual needs and we can provide short term breaks for carers.
A role for everyone
We offer a variety of different positions, a range of hourly contracts and across a number of different locations meaning that Adult Social Care opportunities are accessible for many people.
Care roles ­- You don't need any formal qualifications to apply for a care role, simply the desire to make a difference to vulnerable adults. The role involves working with and supporting individuals to create positive outcomes and promote independence. This may include supporting with all aspects of daily living, report writing, working with families / carers and other agencies and engaging with the planning and delivery of support plans.
Management and administration - Management and administration staff work closely together to oversee the day to day operation of our services. Delivering a high quality service is central to all our roles.
We are always keen to hear from experienced and inexperienced people who are looking for an opportunity to make a difference to the lives of vulnerable adults. Our care roles are not just about delivering personal care but can also involve sharing your hobbies and interests and helping people to develop independent skills.
Training and development
In Adult Social Care, we recognise the importance of growing and developing our staff, so they are equipped with the experience, skills and knowledge to meet the future needs of our residents. To do this we offer a fantastic learning and development package that we have invested in to help develop and retain our talent who we know are the backbone of the services we provide.
We pride ourselves on our learning culture and offer a role specific induction as we understand how important your first few weeks with us are. We also offer a range of ASC specific training and resources as well as development training such as leadership and management in order to help you develop to your full capabilities
Below are some examples of our excellent offer:
Sponsored qualifications
In line with our commitment to continually develop our workforce, we offer a wide range of sponsored qualifications. The qualification is fully funded and is undertaken in addition to your role; therefore, you gain a valuable qualification whilst receiving a salary. We have seen a huge take up of this offer across a diverse range of roles. Below are some of the qualifications staff are currently undertaking.
Health and Social Care – levels 2,3,4 and 5
Management qualifications level 3 and 5
Project management qualifications
Business and administration qualifications
Data analyst qualifications
Graduate trainee scheme to become a Social Worker or Occupational Therapist
If you are an internal employee and have been working in Adult Social Care or Adult Social Care Contact Centre for 2 years you may wish to consider our Social Worker/Occupational Therapist Apprenticeship Scheme. As part of our sponsored qualification offer, we provide opportunities for staff to study towards a fully funded social work or occupational therapy degree. This is a truly fantastic offer and a great way to become a social worker or occupational therapist. For more information about this scheme please contact our Practice Development Team at practicedevelopmentteam@surreycc.gov.uk.
Start your career in care with us
Service delivery locations
View our map of service delivery locations to see the sites that provide residential services for older people and adults with learning disabilities, as well as the reablement teams across Surrey.