One of the primary uses of the records is for researching the ownership, history and original descriptions of the pianos made by John Broadwood and Sons. Researchers are welcome to visit Surrey History Centre to find out details about pianos for themselves, or we can carry out research on their behalf, using our paid research service. We can provide a transcript of the entry in the number book and up to 3 entries from the porters' books (described below) for 1 hour's research. Further entries will be charged accordingly.
The two main series of records are the number books and porters' or day books. The number books act as an index to the porters' books. They contain the serial numbers of nearly all pianos made by John Broadwood & Sons from 1817 to 1952, arranged by type of piano (for example Grand, Cabinet, Square, Cottage, Upright). The same serial numbers were used for different types of instrument, so when researching a piano the type of piano and some indication of the approximate date of manufacture - often indicated by the instrument's aesthetic style or range - is required.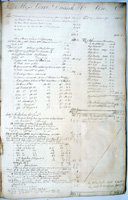 All but the earliest number books provide the date on which the piano was completed, and all give any supplementary dates of being received into or sent away from the workshops. These received and sent away dates correspond with the relevant entry in the porters' books, which survive from 1798 to 1958.
When the piano is sent away, the porters' book entry usually gives a customer name and shipping address, a brief description of the piano and any special features, the method of transportation (for example name of railway company or ship), the name of any agent, and the Broadwood porter responsible for its transport, as well as the cost of the piano and transport fees.
Any later entries for the same piano are often related to repair or refinement of the piano, or its removal to another location or for storage. In the case of 'artistic' pianos, some were occasionally called back to be included in exhibitions, in which case this fact will be mentioned. Some pianos were hired out, including for concert use, and these details are also recorded, as for example when Chopin played in London in 1848.
From the 1820s prices begin to be noted in the porters' books. Prices are sometimes quoted in a code based on the word CUMBERLAND, denoting the figures from 1 to 9, with D being 0, (for example, £ND with E% commission denotes £90 with 5% commission).
Many sales recorded in the porters' books are straightforward with the name recorded being the actual customer. However, there are often exceptions: some pianos are sold to dealers or music warehouses or exported to foreign agents, and the records do not tell us who the final customer was.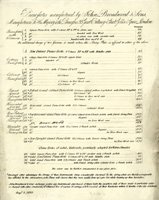 Not all the porters' books are easy to read owing to the past damp problems they suffered, which in some books has left areas of text faint or illegible.
Some typical entries from an early porters' book include:
'21 December 1802, A GPF no.2320 and cover and case addressed Mr Richard Boyton, music warehouse, Bristol, delivered at Gerrards Hall, Basing Lane, goes by Fromonts waggon';
22 December 1802 'Taking SPF Ornd [ornamented] DP no.6809 on hire to Lady Catherine Graham's, no.91 Jermyn Street'.
The other main series of records are the customer ledgers, 1794 to 1972, with separate series for wholesale and retail customers. The sales ledgers include details of all transactions including hire, carriage and sales of pianos and furniture and accessories (for example piano stools, covers, candle sconces, wire). Details of all tuning contracts were entered in the sales ledgers until c.1900, after which date they were entered in separate tuning books. There are indexes to the ledgers, which allow searches for individual customer names to be made. However many of the ledgers, especially the indexes, also suffered damp damage in the past and some are not unfortunately available for consultation.
Further records that are valuable for researching individual pianos include printed price lists. A fine series of these survives from 1815 to 1972, showing the full range of what Broadwood made. The archive also contains black and white photographs of some instruments, chiefly late 19th century 'artistic' pianos.
Images:
Entry in Broadwood porters' book showing use of piano by Chopin, 1848 (SHC ref 2185/JB/42/42)
Entry in Broadwood customer ledger, 1795-1796 (SHC ref 2185/JB/29/1/1)
Price list for pianos, 1829 (SHC ref 2185/JB/76/9)
The archives of Erard and Pleyel, the great French piano makers, whose history is more or less exactly contemporary with Broadwoods, are available online.