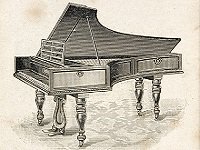 In the spring and summer of 1817 the London piano maker Thomas Broadwood, of the firm of John Broadwood and Sons, toured Europe with his friend James Goding, and noted in his diary the route via 'Paris, Geneva, Bern, Zurich, Constance [Konstanz], Schaffhausen, Streckau, Munich, Vienna and back by Wurzburg, Nuremburg, Frankfurt and down the Rhine to Dusseldorf and back by Bruxelles and Dunkirk and Calais to London'.
It was while he was in Vienna that Thomas Broadwood met the great German composer and pianist Ludwig van Beethoven. Twelve years later, in 1829, Thomas wrote to Vincent Novello [1781-1861, the musician and music publisher] describing his visit.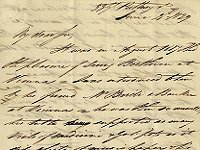 33 Gt Pultney St [Great Pulteney Street, London]
June 4 1829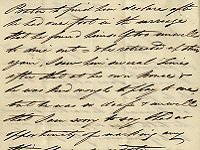 My Dear Sir,
It was in August 1817 I had the pleasure of seeing Beethoven at Vienna. I was introduced to him by his friend Mr Bridi, a banker at Vienna – he was then so unwell, his table supported as many vials of medicine and golipots as it did sheets of music paper and his cloaths so scattered about the room in the manner of an invalid that I was not surprised when I called on him by appointment to take him out to dine with us at the Prater to find him declare after he had one foot in the carriage that he found himself too unwell to dine out and he retreated upstairs again. I saw him several times after that at his own house and he was kind enough to play to me, but he was so deaf and unwell that I am sorry to say I had no opportunity of marking anything like an anecdote. I have enclosed you a translation sent to me by my friend Mr G Thomson of Edinburgh of notice taken of a Pforte [pianoforte] we sent as a present to him in 1818.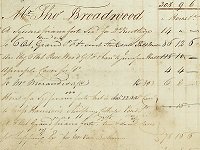 On his return to London Thomas Broadwood conceived the idea of sending a grand piano made by the firm to Beethoven as a gift. Thomas Broadwood's entry in the Broadwood company ledgers contains an entry for the shipping of the piano, as shown in the last two lines of the entry in the accompanying image:
27 December 1817 A 6 Oct Grand pianoforte (£71.8.0) tin (73/6) and deal (48/8) cases, pd shipping ex[penses] (27/-) for Mr Van Beethoven [total cost] £78.16.6
The piano is now in The National Museum of Hungary at Budapest
Beethoven's apartment at Modling near Vienna, Austria, where the piano was delivered in 1818 and the Beethoven house in Bonn, Germany are holding exhibitions and concerts in connection with the bi-centenary of the gift.
Images:
Select image to view a larger version.
Letter from Thomas Broadwood to Vincent Novello, 1829 (SHC ref 2185/JB/83/9)
John Broadwood and Sons ledger, 1817 (SHC ref 2185/JB/29/12/1 page 47)
Drawing of the piano presented to Beethoven (SHC ref 2185/JB/83/13)